Pokémon Go Craze Sweeps the Nation
And Your Local Library is No Exception!
If you've been wondering about the Pokemon Go phenomenon, read the following article written by Gwen Spain and Kristen Frazier, librarians at the Iuka Public Library.  Players have been spotted around several libraries in our area!
Pokémon Go Arrives in Tishomingo County
Have you seen more people than usual wandering around with their eyes glued to their smart phones?   Local kids, adults, and even whole families have joined more than 21 million active players in the U.S. who use the mobile app Pokémon Go.  It was released for Android and IOS earlier this month and is already the biggest US mobile game ever!  The game uses both your phone's GPS (to keep up with your real-world location) and "Augmented Reality" (AR) to display the game's images.   When you play Pokémon Go, you can look through your phone's camera and see what is really there, and the AR overlays Pokémon and other images. So when you look through your phone, you see both what's real and what's added.
Pokémon originated as a 1996 Game Boy game that takes place in a world full of Pokémon, which are adorable little creatures of different types.  In the new mobile version, players track Pokémon and try to catch them using tiny red balls, called pokeballs.  The players, who are called Pokémon trainers, tame the caught Pokémon to fight other Trainers' Pokémon, on a quest to become the best Trainer in the world.  Now fans of the Pokémon games, anime and merchandise can find and catch Pokémon in the real world.
Non-players should be aware that a group of people standing together or moving through locations in the community might look suspicious at first glance, but should understand that players are involved in harmless fun that has several positive aspects.    For example, a key difference of Pokémon Go is that players are not sitting at a console, alone in a dark room.  These players are out walking around, getting exercise and fresh air, and experiencing their community.   The game includes Pokestops, which are places where players can go to refill their game supplies.  These landmarks are usually important locations within the community, and when the players visit them they are given a brief history of the site.  There are Pokestops at the Iuka Library, Mineral Springs Park, local churches, and various memorials, as well as other historic and important locations.  The game also gives players a chance to be social.  People who are usually shy are out making friendships and memories.
Of course players must remember to pay attention to their surroundings at all times and to be respectful to everyone in the community.  Players must use common sense, obey the laws, and never go onto private property without permission.  Pokémon Go should not be played while driving.
For more information about Pokémon or how to play the game, stop by the Iuka Public Library to see the informative  display and ask questions.  And maybe you'll be catching your own Pokémon soon!
---
NEW OneClickDigital Account Tutorial
Need help getting started with e-materials through OneClickDigital?  Check out the link below for a helpful video tutorial that walks you through the steps of setting up your FREE account.  And keep watching as we add more tutorials in the months to come …  A special 'Thank you' goes out to the enterprising librarians at the Iuka Public Library who created the tutorial.
---
---
---
June Librarian Spotlight
Meet New Corinth Assistant Librarian
Teresa Templeton
Recent visitors to the Corinth Public Library may have noticed a friendly new face as Teresa Templeton joined the library staff in April.  Teresa's favorite part of working at the library so far has been meeting all the library's patrons and reconnecting with other people from the Corinth community, many of whom she meet while working with Girl Scout cookies sales and through her work at the Salvation Army.  Teresa relates, "I am also loving getting to know the little kids who come to Storytime with Mr. Cody."
Another part of her job that Teresa loves is finding new authors to read, both for herself and for library patrons.  She particularly enjoys reading biographies and mysteries.  Janet Evanovich, Patricia Cornwell, Sue Grafton and Anne Rice are a few of her favorite authors.  When she's not at the library, Teresa enjoys fishing, hiking and working on interior design and home improvement projects.  She also loves to spend time with her family.  Teresa and her husband Stan have been married for 33 years.  They have two daughters and two grandchildren – a boy and a girl, with another one on the way!
Teresa attended Northeast Mississippi Community College and Mississippi State University, where she earned a Bachelor's of Science degree in Interdisciplinary Studies in Business, Psychology and Sociology.  She has already lent her design touch to the bulletin board and display cases in the library, so come by soon, see her handiwork and meet the new Corinth Public Library Assistant Librarian, Teresa Templeton.
---
March Librarian Spotlight
Kristen Frazier
Assistant Librarian,  Iuka Public Library
Kristen Frazier's favorite part of her job as the Assistant Librarian at the Iuka Library is helping others find the perfect book.  Since beginning work at the library, she has prided herself on being able to track down just the right book for her Iuka patrons.  Kristen believes in bringing a personal touch to her job as she tries to keep series lists on her desk so she can request more for her patrons so that they never run out of things to read.  Since beginning her new role in 2015, Kristen has become very knowledgeable about historical fiction, Christian fiction and how to acquire titles in large print format.
Prior to becoming Assistant Librarian in May 2015, Kristen worked as the Night Clerk at the Iuka Library as well as volunteering during special events such as the Summer Reading Program.  She graduated from Tishomingo County High School in 2011 and has taken some classes at the University of North Alabama.
Kristen says her reading interests change daily.  She enjoys reading almost all fiction genres although contemporary Young Adult titles are her favorite.  Kristen considers herself a very handy person so the "Do-It-Yourself" books are her favorite non-fiction choices.  Kristen also absolutely loves any children's book by Mo Williams.  "Elephant and Piggie are the greatest characters", she says.
Kristen loves learning about new things.  Currently, she's been learning how to crochet. She considers herself a video game nerd as she spends most of her time outside the library playing video games.  Her other hobbies include art and spending time outdoors.  She loves camping, hiking and exploring even though she doesn't get to do them very often.
Kristen and her husband Jared love their children – three dogs named Lou Lou, Gertie, and Tony and their cat, named CAT.   Kristen's future plans are to attend the University of Southern Mississippi to start working towards a degree in Library and Information Science.
Kristen's favorite quote about libraries is by Doris Lessing: "With a library you are free, not confined by temporary political climates. It is the most democratic of institutions because no one – but no one at all – can tell you what to read and when and how."
---
 New Corinth Librarian Cody Daniel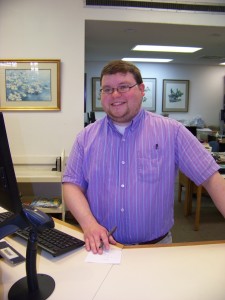 The Northeast Regional Library is pleased to announce Cody Daniel as the new Head Librarian at the Corinth Public Library.
Cody has a place in his heart for Northeast Mississippi.  He grew up in Iuka and attended high school in Corinth, where he has lived since his return from college in 2008.  He is a graduate of Northeast Mississippi Community College and the University of Mississippi and has worked with the Northeast Regional Library for a total of five years, most recently as the Assistant Librarian.  Before that, he worked as a library clerk for two years.  Cody has also taught English at Corinth High School.
Cody is a strong supporter of culture and the arts in Corinth.  He serves on the board of both LINK and the Crossroads Poetry Project, and he has been active with the Corinth Shakespeare Club for several years.  When he is not at the library, you might also find him onstage at Corinth Theatre-Arts; he was in Neil Simon's Biloxi Blues in 2013.  Cody is often a visitor of local schools as well, either as a judge for book fairs, or as a performer with the Crossroads Poetry Project.
Of course, as a librarian, he has a love of reading as well.  When asked about his favorite genres, he said that his first choice is either 'supernatural thriller' or 'armchair theology'.  "Stephen King and C.S. Lewis are two of my favorite authors.  As of last month, though, I've been on a 'Star Wars' kick.  I'm currently reading Paul S. Kemp's Lords of the Sith, which gives some of the history of Darth Vader."
Cody vividly remembers one of his first memories of the Corinth Library.  "I know I was in high school, and my aunt had gotten me into reading Stephen King.  I remember being in the library, looking at the Stephen King books and thinking, 'I could get any of these.  Maybe even all of these.  For free!' "  After spending more time at the library, Cody said, he soon learned that patrons can, in fact, check out as many books as they like.
Cody says that, in addition to all the free books and movies, he looks forward to seeing more of the people of Corinth. "I've gotten to meet people from Corinth, as well as visitors from other states, sometimes traveling from around the country to do family history research or explore Corinth's Civil War history.  It's a pleasure to be a part of what they're doing, and to help them with whatever they need from the library."
Cody will also be continuing in his role as the Story Time reader for preschool children.  "I love seeing the kids; reading to children, whether a story or a poem, makes you see it differently.  They'll react in very unexpected ways!"  The children know him as "Mr. Cody," and he wants to invite all children of any age to come by on Thursdays at 10:00am for Story Time.  "It is geared towards children ages 2-5, but everyone is welcome to come."
On the weekends (when not reading, that is), Cody is often visiting family or playing board games and card games with friends.  He also serves as a class leader and Sunday server at St. James Catholic Church in Corinth.
Cody extends an open invitation for everybody to come to the library.  "I want to meet you," Cody said.  "If you need books (or movies), if you need to write a resume, or if you just want to stop by and say hello, come visit us.  We'll be looking out for you."
---
Introducing New Burnsville Librarian Charlotte Morris
The Northeast Regional Library is pleased to introduce Charlotte Morris of Burnsville as the new Burnsville librarian.  Originally from Kevil, Kentucky, Charlotte's family moved to nearby Cairo, Mississippi when she was a teenager and she has been a fixture in Tishomingo County ever since.
Charlotte received an Associate of Applied Science degree in medical assisting from NEMCC and spent her early career working in the hospital field.  She has most recently worked as a substitute teacher for the Tishomingo County School District where she has made numerous contacts that will help her with her goal of strengthening community ties between the public library and the school systems.
Charlotte currently lives in the Turnpike Mountain area between Burnsville and Iuka with her husband Steve.  They have three children: Jade Morris Newcomb; Haley, a student at NEMCC and Jesse, a junior at Tishomingo County High School where he is a member of the Cross Country Team.  In her free time, Charlotte enjoys worshipping, reading, researching topics and spending time with family and friends.
Of her new position Charlotte relates that "I have certainly enjoyed all aspects of my job thus far.  I look forward to helping the citizens of Burnsville and their children."  She encourages everyone to visit the library, which is located at 7 Norman Avenue in Burnsville.  She is also happy to answer any questions at 662-427-9258.
---