---
All Libraries will be closed for President's Day on Monday, February 20.
---
The Rienzi Library has New Books, A New Look and a New Librarian to go along with them
The Northeast Regional Library would like to introduce D.E. Wilson of Booneville as the new branch manager at the Rienzi library.  A former entrepreneur, D. E. spent several years living and working in Asia before returning back home.  He is happy to now take up the task of ensuring that the people of Rienzi and the rural communities of Prentiss and Alcorn counties have the reading and media materials that they want and need.  When not at his desk, you can find D. E. running, travelling or at home with a good book.
D. E. would like to remind everyone that the Rienzi Library is open to the public on Mondays, Wednesdays and Fridays from 12:00 – 5:00.  He invites all residents of Prentiss and Alcorn counties to pay him a visit, especially those in the communities of Rienzi, Biggersville, Jacinto, Altitude, Thrasher and the surrounding areas.  He has new books, and a quiet, quaint, distraction-free place to read them, just a leisurely drive away at 5 School St. in Rienzi.  One of D. E.'s first acts as librarian was to give the exterior of the library a much-needed update by repainting the front doors.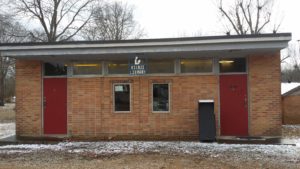 According to Wilson, "The role of libraries in our increasingly connected and complex world has changed. We are no longer book repositories; libraries are service centers for entire communities. We are resource hubs where a citizen of a community (especially rural communities where every educational resource counts) can come to ask questions, become immersed in the collected thoughts and experiences of humanity, be introduced to educational resources, discover more about how we are connected and even discover the latest movies in our digital media section."
The Rienzi Library can also be reached at 662-462-5015 or at dewilson@nereg.lib.ms.us.
---
Essential Oils & Winter Wellness
Free presentation by Carolyn Stratman
Has been rescheduled for:
Wednesday Feb. 8, 2:00 – 3:00
The Bill of Rights and You:
National Archives exhibit
Iuka Public Library

NEW Digital Media for February
Neregms.oneclickdigital.com
Click on the book covers below to read more about these new selections.
eBooks:
Read about history, science, politics and maybe a bit of gossip in new nonfiction at your local library.
American Heiress by Jeffrey Toobin
The kidnapping and eventual recruitment (or not) of Patty Hearst into the Symbionese Liberation Army captured America's attention during the 1970's.  Check out New Yorker staff writer Jeffrey Toobin's account of the Patty Hearst story.
We have several books by Jeffrey Toobin in the Northeast Regional Library collection including The Oath: the Obama White House and the Supreme Court and Too Close to Call: the Thirty-six Day Battle to Decide the 2000 Election.
Ghost Tales of the State Line Mob by Robert D. Broughton
Ghost Tales of the State Line Mob includes narratives, pictures and documents about a violent period of this area's past.
Other popular books about this period include The Twelfth of August: the story of Buford Pusser and The State-Line Mob, both by W. M. Morris
Read more about new nonfiction
---
Have you ever wondered why we read?  Check out a great article detailing why by Corinth Librarian Cody Daniel:  Why Read?
---
To learn more about the Pokemon Go Craze, check out this article by the Iuka Public Library:  Pokemon Go!
---