Family Activities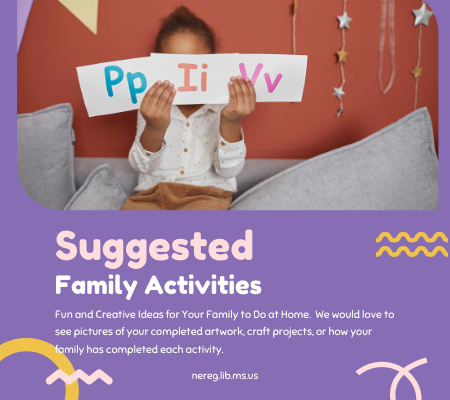 Suggested Family Activities
Fun and Creative Ideas for Your Family to Do at Home.
New Suggested Family Activities are posted on most Mondays, Wednesdays, and Fridays
As with our Summer Reading Program activities, we would love to see pictures of your completed artwork, craft projects, or how your family has completed each activity.  And with the parent's permission, we will share your pictures on our Northeast Regional Library website and social media.  If you have any suggestions or comments on the types of activities you would like to see, please let us know!
Send your pictures, ideas, and comments to photos@nereg.lib.ms.us
🏆 2021 Jane Smith Literacy Award Winner
🏆 2021

Library of Congress Award Winner
Suggested Family Activity •
Paper Chain

and

Pinecone Craft

Paper chains are a great craft project for all ages!  You can make one to be a countdown calendar to your favorite winter holiday and pull off a loop for each day until it arrives.  Or you can make one to use as a decoration in your home or on a tree.  All you need is different scraps of paper cut to the same size (about 1-inch x 5 inches is a good size) and some glue.  Before the time of mass-produced ornaments, people decorated their homes with paper chains, strings of dried fruit such as cranberries and orange slices and strings of popcorn.  For children old enough to hold a large, blunt needle themselves, stringing popcorn would also make a great decoration for trees and shrubs outside – plus a great holiday treat for visiting birds and squirrels!

To make a beautiful natural ornament for your tree, just pick up a pinecone on your next walk.  First, tie a piece of string or yarn to the top to be the hanger.  Next, paint the tips of the pinecone with craft glue and sprinkle glitter on the glue while it is wet.  After the glue is dried, the ornament is ready to hang!  For a more colorful ornament, you could substitute acrylic paint (thinned out with a little water) for the glue.  You could also add other small decoration that might fit into the crevices of the pinecones such as silver balls (like the ones used for cake decorating), sequins or small beads.

Share your photos with us at photos@nereg.lib.ms.us