Previous Family Activities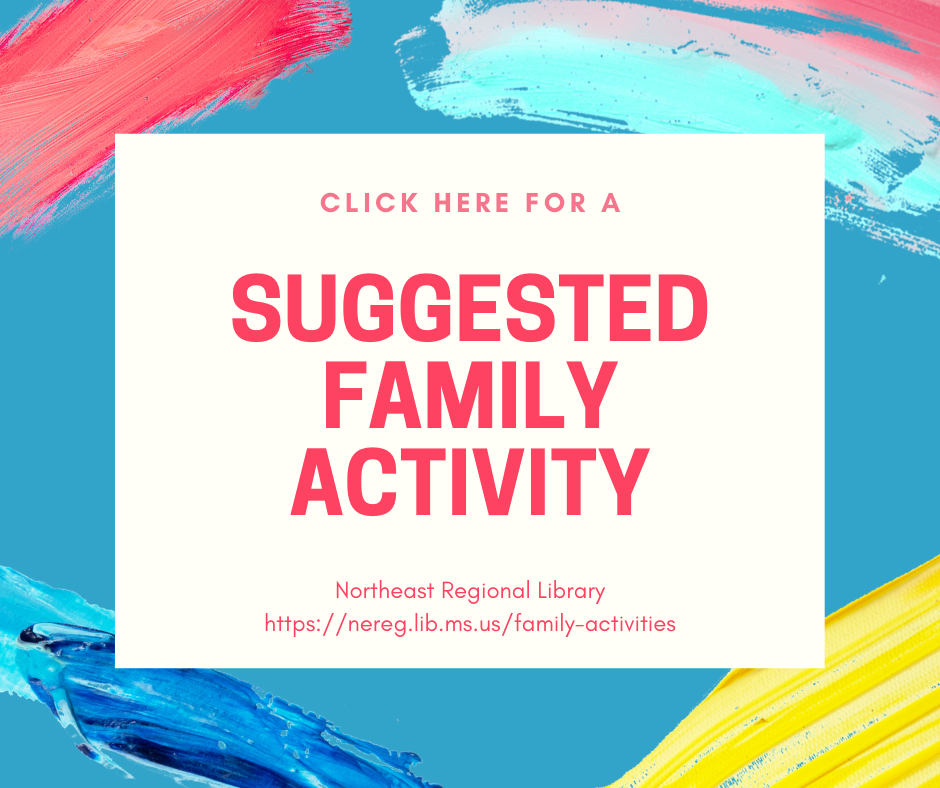 PREVIOUS SUGGESTED FAMILY ACTIVITIES 
Check back each day for fun and creative ideas for things for your family to do at home.
We would love to see pictures of your completed artwork, craft projects, or how your family has completed each activity.
With a parent or guardian's permission, we will post your pictures on our Northeast Regional Library website and social media.
If you have any suggestions or comments on the types of activities you would like to see, please let us know!
Send pictures and comments to summerlibraryprogram@nereg.lib.ms.us
December 2020 Suggested Family Activities
If your children want to celebrate the arrival of the new year tomorrow but midnight is too late for them to stay up, why not stage it earlier in the night before they go to bed?  You can find videos of the ball drop in New York City from previous years online so watch one of these old videos and have the whole family count down the minutes.  You can just pick a random time (for example, 8:00 p.m.) to count down towards.  Everyone can scream "Happy New Year" and make noise, regardless of what time you celebrate the new year's arrival.  You can even let your little ones dress up in fancy clothes from their dress-up box and pile on fun, glittery accessories like tiaras, crowns, necklaces and funny hats. 
If you want to make your own New Year's ball to drop in your home, you can make a paper mâché one using a balloon, glue and newspaper strips.  Or just use a regular balloon and let it fall to the floor.  If you do not have any noisemakers at home, you can let your children bang on pots and pans to celebrate the arrival of the new year.
Older children can celebrate the night by having a pajama party in the living room.  They can pile lots of pillows, sleeping bags and blankets on the floor to make it comfy, put on their pjs and have a ball!  You might even want to help them build a pillow fort for even more fun. 
Today is National Card Playing Day so celebrate by playing some fun family card games.  Families with very young children can play one of the many matching games that help children learn colors, numbers and the alphabet.  Older children will enjoy a great beginning game such as Go Fish, Crazy Eights, War, Concentration or Uno.  Children can even be taught to play Solitaire on their own!  Playing card games is a great way for children to learn social skills such as taking turns, being fair to others and being patient while waiting for everyone else to have a turn.  It also helps children practice other necessary skills such as adding and subtracting and matching numbers, colors and shapes – but all while having fun!  
Today is also National Chocolate Candy Day so take time throughout today to snack on your favorite chocolate candy treat.  Do you like having a little bit of chocolate at a time such as M&Ms or do you prefer to take big bites of a Hershey's bar?  You may have even gotten some special chocolate candy treats during the holidays that you can eat today.  Many people like to eat chocolates slowly to make them last longer so why not try that technique?  For a funny picture book about chocolate candies, check out Curious George Goes to a Chocolate Factory.  Or if you would like to learn how chocolate is made, check out Beans to Chocolate by Inez Snyder for young readers or Chocolate: Sweet Science and Dark Secrets of the World's Favorite Treat by Kay Frydenborg for older readers.  Adult readers might also enjoy the novel Chocolat by Joanne Harris or the chocolate shop mysteries by JoAnna Carl. 
Today starts Kwanzaa.  To learn more about this holiday, check out The Complete Kwanzaa: Celebrating Our Cultural Harvest by D. Winbush Riley.  Children's titles include Seven Spools of Thread: A Kwanzaa Story by Angela Shelf Medearis, Kwanzaa by A. P. Porter and Seven Candles for Kwanzaa by Andrea Davis Pinkney.
One of the bases of Kwanzaa is the celebration of the harvest.  The cold winter months are a great time to plan out your own garden for this spring, whether you use seed catalogs, gardening magazines, the internet, or your own past gardening experience for inspiration.  Get the whole family involved in picking out what things to plant.  Having children involved in the process of picking out which vegetables to plant, preparing the soil, planting the seeds and tending the plants as they grow will make them more interested in eating the produce when it is ready to pick.  (Having them help with the food preparation when the things from your garden are ready to cook is also another way to get them interested in vegetables!)
Today's the last day this week to pick up a children's activity and craft packet and FREE book at your local library branch before they close for the holidays!  In the packets, you will find lots of fun things to keep children entertained this week, including coloring sheets featuring Santa, snowmen, reindeer and more!  There are also supplies to make five craft projects, including a Rocking Santa, a Candy Cane, a Reindeer, a Circle Ornament and a Hot Coca mug craft.  We have provided white squares of heavy paper to make the Circle Ornament in the packet but you can continue to use the template for years to come.  This project is a great way to recycle your Christmas cards – just cut circles out of the cards and glue them together using our instructions.  Ornaments made from your old Christmas cards will be a lasting reminder of the beautiful cards you receive from year to year.
Paper plates (the cheapest you can find!) make great craft supplies.  In addition to the Rocking Snowman found in this month's free December packet at your library, children can also turn a paper plate into:
A holiday wreath by cutting out the middle of the plate in a circle so that the plate becomes a wreath. If you are not comfortable free hand drawing a circle, you can use a smaller plate to draw around to create the opening. Kids can color the wreath a solid color and then decorate on top of that with small artificial flowers (easily found at places like the Dollar Tree), stickers, designs they have drawn on paper and cut out or any other craft supplies. 
You can also turn a paper plate into a Christmas tree by cutting it apart into 3 wedges (imagine a watermelon slice). Glue the wedge pieces on top of each other with the fluted part of the plate pointing down and the pointy piece on the top. Then color the tree green and decorate it with stickers, sequins, beads or any other craft supplies.   Children could also draw ornaments on a piece of paper and cut them out to glue on their tree.
Today is the Winter Solstice in the Northern Hemisphere– the longest night of the year. It's the day when the Earth's Northern pole has tilted as far as possible from the sun, which means that the day light hours are the shortest and the nighttime hours are the longest. Celebrate this longest night by having a fire outside and roasting hot dogs and toasting marshmallows. Having a cup of hot cider or hot chocolate will also be a great treat tonight!
Your local NERL branches will only be open Monday, Tuesday and Wednesday this week so hurry by to check out last minute books before the holidays.
Selections vary by branch so call your local library today to see what they have available.
Some great picture book titles by your favorite children's book authors include A Bad Kitty Christmas by Nick Bruel, Bear Stays Up for Christmas by Karma Wilson, Click, Clack, Ho! Ho! Ho! by Doreen Cronin, How Do Dinosaurs Say Merry Christmas? by Jane Yolen and Llama Llama Holiday Drama by Anna Dewdney. Chapter book readers might enjoy Young Scrooge: A Very Scary Christmas Story by R.L. Stine, Nate the Great and the Crunchy Christmas by Marjorie Weinman Sharmat or Judy Moody & Stink: The Jolly Joliday by Megan McDonald.
Adult readers might enjoy some of the many holiday titles by fiction writers such as Debbie Macomber, Robin Carr, and Wanda Brunstetter. Western author William W. Johnstone even has several holiday titles.
Mystery writers love to set their titles during this time of year too! Some titles in our libraries' collection include A Cajun Christmas Killing by Ellen Byron, Christmas Cake Murder by Joanne Fluke and Here Comes Santa Paws by Laurien Berenson. 
Reading Clement Clarke Moore's holiday classic The Night Before Christmas (sometimes listed as 'Twas the Night Before Christmas) is a great family tradition in many families.  Your local libraries have lots of versions available to be checked out so make sure to pick up a copy before the big day!  Illustrators over the years, such as Hilary Knight, Arthur Rackham, Jan Brett and Richard Scarry, just to name a few, have put their own spin on the story.  There are even specialized versions such as A Cat's Night Before Christmas and A Dog's Night Before Christmas by Henry Beard and The Night Before Christmas, Deep Under the Sea by Kathie Kelleher.  If you prefer an e-book, don't forget your library card gives you access to e-books through Hoopla and the Libby app through OverDrive.  Accessing these titles is quick and easy.  For more information, check the Digital Resources page on the NERL website or call your local library branch.
Cardboard paper rolls from paper towels or toilet paper make a great craft supply after they have been sanitized.  This month, you can cover one with white paper to become a snowman and then draw on buttons, a scarf, a carrot nose and eyes.  Or you could turn one into a reindeer with brown paper and some pipe cleaner antlers sticking out each side.  The people behind the website CraftIdeas.com have even turned one into a Santa.  Check out the link below to learn how they did it:
https://www.craftideas.info/html/paper_roll_santa_b.html
The people at ChristmasProjects.com have created this cute and easy foam Christmas tree ornament craft: http://www.christmas-projects.com/html/fun_foam_tree.html.  You can visit their website for a template to print out or draw your own tree shape.  If you do not have any craft foam, green paper is a quick and easy substitute.  They decorated their tree with glitter glue but you can decorate yours with markers, crayons, beads, buttons, pom poms or any other craft supplies you have on hand.
A wonderful nighttime family activity, that is also perfect for keeping your social distance this year, is to ride around with your family and look at lights and decorations on everyone's houses.  Sometimes homeowners even have their lights programmed to radio stations playing festive music.  (Singing holiday songs as you drive from one location to another is also a great way to pass the time!)  Another fun idea is to take along hot chocolate and holiday cookies to snack on as you drive around.  Families of young children might even want to let their children get into their pajamas before taking their ride around town, so that the children are ready to go to bed as soon as they get back home.
Check back tomorrow for more fun holiday ideas!
In our library's craft and activity packets this month is a cute candy cane to make using white and red circles.  All supplies needed for the craft are in the packet, including a yarn hanger so that it can hang on your tree or in your house as a decoration.  There is also an activity sheet for children to find the quickest way through a candy cane maze.
Beaded candy canes are fun and easy to make, even for the smallest fingers.  All you need are white and red pony beads and a pipe cleaner, both of which can be purchased inexpensively at stores such as the Dollar Tree and Dollar World if you do not have the supplies at home.  All children must do to make this quick project is to slide each bead onto the pipe cleaner, alternating each color as they go.  When they have reached the top of the pipe cleaner, the top is bent over into the familiar hook shape.  This craft would make a great decoration in your home, on your tree or to give out as presents to friends and loved ones.  Did you know learning how to pick and grasp small objects, such as beads, is an important step in children learning how to write?  This is a great activity for little fingers to do because it sets them up for success in knowing how to hold and grasp a pencil when they enter pre-school or kindergarten. 
Another great way to make a candy cane ornament is to use a skein each of red and white embroidery floss and a pipe cleaner.  (You could also use yarn or cord in those colors – the thicker materials would also be easier for little fingers to grasp.)  Take the paper wrapping off the skeins of floss and snip each looped end to make two bunches (but you'll only be using one of each color).  Tie one bunch of red and one bunch of white in a single knot at the top of the pipe cleaner.  Twist the top colors around the pipe cleaner to make the stripes.  When you get to the end, make another knot and trim either the floss or the pipe cleaner as necessary.  Now all that is left is to bend the top into a hook shape and add a ribbon or yarn hanger.
Family Activitiy: Don't forget to pick up your FREE children's craft packets and FREE book at your local library!  One of the activity sheets in this month's packet is a fun Candy Cane Experiment.  It is a great way to sneak in a little STEM activity into your holiday celebrations!  Small, thin candy canes will work best for quick results but to turn it into a longer activity, children can experiment with different sizes and flavors.  The sheets have space for children to write their predictions for what will happen when a candy cane is placed in cool water, warm water and vinegar.  There is also space on the sheet for children to write in their observations and the results of their experiments. 
If your family loves to watch holiday moves this time of year, you can put a little extra excitement into the activity by wrapping up your holiday DVDs in gift wrapping paper and putting them in a box or basket.  Each night that you want to watch a movie, family members can take turns randomly picking a movie to watch together.  You can also use this same technique with your children's holiday picture books for a fun surprise each night before bed.
Check back tomorrow for some candy cane craft ideas!
Have you picked up a children's craft packet and free book at your local library yet? They have lots of good things to keep little ones (and not so little ones) occupied this month – holiday themed coloring sheets, activity sheets, suggested reading lists and supplies to make FIVE different arts and crafts projects. In addition to a crossword puzzle for older kids, there are several sheets of themed word searches. Children can work on them alone – it is a great way for school-age children to learn how words are spelled and become more familiar with the alphabet. Or to turn it into a fun family activity, you can do this variation: Give the same word search (your local library can provide you with extra copies) to everyone in your family. Place them face down on the table. Then set a timer, say GO and have everyone try and find all the words as fast as possible in a set amount of time. Whoever finds the most wins! Another variation is to have everyone in your family work on the word searches over several days. This way would be especially great in families with young children as it will give them more time to complete the sheet. When they have finished, you could even give them a small treat such as a piece of candy or extra screen time.
Another fun family game is to pick a word (such as December) or a phrase (such as Happy Holidays or Season's Greetings) and have everyone see how many words they can make out of the letters in the word or phrase.
Tomorrow is the first day of Hanukkah.  To learn more about the holiday, check out the following books from your library: Beautiful Yetta's Hanukkah Kitten by Daniel Manus Pinkwater, The Christmas Menorahs: How a Town Fought Hate by Janice Cohn and Hanukkah Bear by Eric A. Kimmel.
Decorating a gingerbread house is a fun family activity.  To make it faster and easier, you can purchase pre-made kits with pieces cut to size, pre-mixed cake icing and decorations.  If you don't want to go to the expense, though, or put up with the mess, children can decorate paper gingerbread people and a paper gingerbread house found on activity sheets in our December children's packets.  Children can use crayons and markers or other types of craft supplies, such as buttons, sequins and beads, if you have them available. 
To make a beautiful natural ornament for your tree, just pick up a pinecone on your next walk!  To begin, tie a piece of string or yarn to the top to be the hanger.  Next, paint the tips of the pinecone with craft glue and sprinkle glitter on the glue while it is wet.  After the glue is dried, the ornament is ready to hang!  For a more colorful ornament, you could substitute acrylic paint (thinned out with a little water) for the glue before you add the glitter.  You could also add other small decorations that might fit into the crevices of the pinecones such as silver balls (like the ones used for cake decorating), sequins or small beads.
Today is Pearl Harbor Remembrance Day.
On this day, we honor the survivors and veterans of the December 7, 1941 surprise arial attack on the U.S. naval base at Pearl Harbor on Oahu Island in Hawaii.  This attack led to the U.S.'s entry into World War II.  The site of the attack is now a National Park Service site and serves as the host for a yearly commemorative event.  In order to protect the World War II veterans and Pearl Harbor survivors attending this year's event, the event will be held privately.  However, you can watch it from home through their Facebook page or at www.pearlharborevents.com.  To find out more about this day and the events at Pearl Harbor, visit https://www.nps.gov/valr/learn/historyculture/national-pearl-harbor-remembrance-day.htm.  This website contains links to other information about Pearl Harbor, including videos of previous year's events. 
Your public libraries also have materials about Pearl Harbor, including the DVD The Attack on Pearl Harbor: A Day of Infamy and the book Long Day's Journey into War: December 7, 1941 by Stanley Weintraub.  To help children understand the events, check out Attack on Pearl Harbor: The True Story of the Day America Entered World War II by Shelley Tanaka, Franklin and Winston: A Christmas That Changed the World by Douglas Wood and I Survived the Bombing of Pearl Harbor, 1941 by Lauren Tarshis.
Our librarian at the Tishomingo Public Library, Beverly Parker, has created a Snowman Greeting Card for children to use.  There is a color copy available in the children's packets being handed out at NERL branches or you can print out your own here (insert link).  For snowman related holiday stories to enjoy after you've written a letter to a special person in your life, check out some of these titles from our branches: Christmas Magic by Michael Garland, Elfis: A Christmas Tale by Alan Katz and Frosty's New Friends.
Family Activity: Countdown Calendar
Paper chains are a great craft project for all ages!  You can make one to be a countdown calendar to your favorite winter holiday and pull off a loop for each day until it arrives.  Or you can make one to use as a decoration in your home or on a tree.  All you need is different scraps of paper cut to the same size (about 1-inch x 5 inches is a good size) and some glue.  Before the time of mass-produced ornaments, people decorated their homes with paper chains, strings of dried fruit such as cranberries and orange slices and strings of popcorn.  For children old enough to hold a large, blunt needle themselves, stringing popcorn would also make a great decoration for trees and shrubs outside – plus a great holiday treat for visiting birds and squirrels!
In our libraries' children's packets this month is another cute countdown calendar made up of star shapes.  Children can color in a star on each day until they get to December 25!
To find out more about how the holidays were celebrated in the past, check out the holiday titles in the American Girl series, including Addy's Surprise: A Christmas Story by Connie Rose Porter.  Charles Dickens A Christmas Carol and A Charles Dickens Christmas are also available at several branches, as is Norman Rockwell's Christmas Book.  Other holiday titles featuring classic characters include Christmas with Little Women by Louisa May Alcott and A Little House Christmas Treasury: Festive Holiday Stories by Laura Ingalls Wilder.   An Old-Fashioned Country Christmas: A Celebration of the Holiday Season gives tips on how to make the tree decorations mentioned above while The Old-Fashioned Santa Claus Picture Book gives a look at images of Santa throughout time, as well as children's poems about Santa Claus.
Family Activity: December Packets!
December packets are being given out now through the end of the month at your local library branches!  This month's packets have wonderful holiday themed coloring sheets, activity sheets, suggested reading lists and supplies to make FIVE different arts and crafts projects.  The craft projects include a Rocking Snowman, a Candy Cane, a Reindeer, a Circle Ornament and a Hot Coca mug craft.  Also included in each packet is a wonderful holiday gift – a free book!  So stop by one of the branches of NERL TODAY to get your free packet!  Our branches also have book selections for Teen and Young Adult readers and a new set of more detailed coloring sheets for teens and adults who enjoy the relaxing pastime.
One of the more popular activities in our packets have been the monthly Scavenger Hunt sheets.  The December Scavenger Hunt includes things to look out for as you spend time outside or drive around town – poinsettias, strings of lights and silver bells, just to name a few.  You can view and print a copy of our Scavenger Hunt here: ScavengerHunt or pick up a copy from your local NERL public library branch.
Another sheet in our packets this month is a Reindeer Race that involves rolling a die to move up a number line.  You can even make reindeer markers out of clothes pins to use in the race.  All you need are clothes pins, googly eyes (or draw on eyes with a marker), a pom pom nose (or draw your own), and pipe cleaners to make the antlers.
November 2020 Suggested Family Activities
Monday, November 30


Today is National Mississippi Day – a day to recognize the state we live in and some of the great things to be found here!  Mississippi is well known for being the home of wonderful writers, entertainers and athletes including Elvis Presley, Eudora Welty, John Grisham, Richard Wright, William Faulkner, Oprah Winfrey, Robin Roberts, LeAnn Rimes, Jerry Rice and Brett Favre, just to name a few.  How many famous Mississippians can you name?  And did you know Mississippi added another famous resident recently when Miss Mississippi Asya Branch of Booneville was named Miss USA?  See highlights of her pageant win here at https://www.missusa.com/.
Mississippi is home of the Delta blues and the birthplace of the Civil Rights Movement, which can be explored online at https://mcrm.mdah.ms.gov/.  To find out more about the Delta blues, visit their museum at https://www.deltabluesmuseum.org/.  Our state is full of beautiful scenery and natural wonders, such as those found along the 444-mile long Natchez Trace Parkway, which runs through our area.  This ancient pathway began first as a trail used by herds of bison and then was used by the hunting and gathering mound builders in the area.  Later, it would become a passageway for those transporting goods from the northern U.S. to the river town of Natchez. To learn more about the Natchez Trace, visit their website at https://www.nps.gov/natr/index.htm.
Another great treasure in our area is the Tishomingo State Park.  It was named after Chickasaw Chief Tishomingo, one of the last surviving full-blooded Chickasaw Chiefs, who lived to be over 100 years old.  Chief Tishomingo fought on the same side as the U.S. military during military campaigns of the late 1700s and early 1800s before he and his people were removed from their land in Mississippi in the early 1830s.  Two counties, one in Mississippi and one in Oklahoma, two state parks, a town, organizations, and a beautiful bridge have been named in Chief Tishomingo's honor.  To find out more about Tishomingo State Park, visit their website at https://www.stateparks.com/tishomingo_state_park_in_mississippi.html.
If you have young children, do they know how to spell Mississippi?  If not, teach them the "M, I, crooked letter, crooked letter, I, crooked letter, crooked letter, I, humpback, humpback, I" rhyme that has been used for generations to teach children how the word is spelled.  Another fact about Mississippi is that people all over the U.S. count seconds of time by saying, "One Mississippi, two Mississippi, etc".  No one knows why – it could be just that it is a fun word to say! 
Friday, November 27

Many people have started taking the day after Thanksgiving as a day for making and crafting items to give to family and friends instead of going out to crowded stores. Hand-made items, especially those made by children, will have a lasting place in the heart of the person who receives it. If you decide to take part in this new tradition, your public libraries have lots of great titles to help you and your family find quick and easy gifts to make at home.  Author Kathy Ross is the queen of easy to make kid's crafts. She has several titles, including Christmas Decorations Kids Can Make, Christmas Ornaments Kids Can Make and Crafts for Christmas. Other crafting titles for children you might want to check out include Disney Christmas Crafts: More than 50 Festive Ideas for Making Decorations, Wrappings, and Gifts by Marge M. Kennedy, Fun Family Crafts by Kelly Doust and Crafting Fun: 101 Things to Make and Do with Kids by Rae Grant, just to name a few. Other interesting titles in our libraries' collections include Make & Share Random Acts of Kindness: Simple Crafts and Recipes to Give and Spread Joy by Mique Provost, The Family Circle Book of 429 Great Gifts-to-Make All Year Around for Just 10¢ to $10 and Gifts to Make: 365 Beautifully Easy Ideas by the Editors of Better Homes and Gardens. Those who love to woodwork might want to check out Beautiful Wooden Gifts You Can Make in a Weekend by Alan Bridgewater, while those who like to cross stitch might like Anna Marie Doherty's 101 Weekend Cross Stitch Gifts: Over 350 Quick-to-Stitch Motifs for Perfect Presents. And finally, those who like to knit and crochet might like Great Knitted Gifts by Lesley Teare, Knitting a Kiss in Every Stitch: Creating Gifts for the People you Love by Andrea Shackleton or Easy Toys: 25 Delightful Creations to Knit and Crochet.
Monday, November 23
Have you picked up a November packet of children's activities for your family yet?  It's not too late – all branches of NERL will be open Monday through Wednesday this week.  This month's packet is filled with coloring sheets, activity sheets, craft project and game ideas, Thanksgiving inspired suggested reading lists and supplies to make several arts and crafts projects.  And do you know the best thing?  Besides being FREE, our packet will come in extra handy this week to help entertain your little ones in the exciting days leading up to Thanksgiving Day.  And do not forget, we also have detailed coloring sheets for teens and adults who enjoy the relaxing pastime, so pick up a coloring sheet packet for yourself as well!
One of the activity sheets in the packet contains an empty cornucopia, while another sheet has a variety of fruits and vegetables to color, cut out and glue into the cornucopia to make it complete.  Another activity is a Thanksgiving Placemat sheet.  Children can draw their favorite meals on this sheet.  At the top of the sheet, there is even a place to write what they are thankful for on each of the printed hearts.  Both sheets will keep help keep little ones occupied while everyone else is preparing for their big meal.  
Some of these Thanksgiving game ideas may come in handy this week to help excited children burn off some energy:
The website Hands On As We Grow offers this low-cost idea to use basic supplies to make a Turkey Ring Toss.  Instructions can be found at https://handsonaswegrow.com/thanksgiving-turkey-ring-toss/.  Their idea uses recycled coffee creamer bottles to make pins that poster-board circles are thrown at but if you do not have those supplies, use your imagination to come up with alternatives.  Plastic drink cups could be used, for example, or recycled juice bottles or milk jugs.  You could also use cardboard recycled from shipping boxes, cereal boxes or other household items that come in a box to make your rings.  The website creators decorated their rings with craft feathers, but your children could draw their own feathers on paper to color and cut out if you do not have any available.
Another combination craft project and game activity is to make Turkey Bowling Pins by turning a plastic drink cup such as a red Dixie cup into a turkey by gluing on a triangle nose, googly eyes and feathers sticking off the back.  Make at least 6 and then take turns setting them up and knocking them over with a ball.  To turn it into a STEM activity for younger children, have them start with small bouncy balls to see if they are strong enough to knock the pins over and work their way up to larger balls such as a soccer ball or basketball.
Another great way to burn off some energy is to have a mini Pumpkin Hunt: Hide mini pumpkins around your house or yard for children to find.  If you do not have any, you could also hide fall colored Easter eggs (think yellow, orange and red) with a piece of candy inside and let your children have a Fall Egg Hunt. 
As the weather starts to turn a little colder, now is the perfect time to go through your sweaters, coats and jackets and pull out any you don't wear anymore to give to someone else who might need them.  Get the whole family involved – kids outgrow their clothing so fast (or their tastes change) that they can also go through their coats and jackets, as well as their winter hats, gloves and mittens to see if there are any they can't wear anymore.  If you donate them to a group who distributes the items to the homeless population, don't forget socks too.  Many groups often report that warm socks are often asked for by those in need.  This month is also a great time to donate canned goods, dried pasta and other food items to your local food pantry for those who need help meeting their families' basic food needs during this difficult time.  And with the onset of winter, local animal shelters would also appreciate gifts of pet food, newspapers and warm blankets for the abandoned animals they take care of this winter. 
With the first of several winter holidays fast approaching, now is also a good time to check in with your elderly neighbors or those you know who live alone.  A special surprise left on their doorstep, like a fruit or snack basket or even a hand-made card, will let them know someone is thinking of them and help to brighten their day, especially if they do not get many visitors.   
To help you get ready for Thanksgiving next week, check out some of the titles available at your local branches: Crafts for Thanksgiving by Kathy Ross has simple yet fun craft ideas for kids to enjoy.  1621: A New Look at Thanksgiving by Catherine O'Neill Grace uses photographs of reenactors to show the original three-day harvest celebration in a more historically accurate version of the first Thanksgiving.  Titles perfect for young readers who can read on their own (or for reading out loud as a family) include Junie B., First Grader: Turkeys We Have Loved and Eaten (And Other Thankful Stuff) by Barbara Park and An Old-Fashioned Thanksgiving by Louisa May Alcott.
If you and your children like to make crafts out of the imprints of their hands and feet, you can easily turn your child's hand into a Thanksgiving turkey.  Paint the palm of their hand and their thumb with a thick layer of brown acrylic paint and then paint each finger a different color such as orange, red, yellow and green to be the feathers.  Press the hand firmly onto a sheet of paper to leave an imprint.  When the paint has dried, add in finishing details such as eyes, a beak, a wattle and feet.  Check out our picture below for inspiration!  Here is a cute poem you can type out to put with your turkey picture as well:
This Isn't Just a Turkey
As Anyone Can Plainly See.
I Made It with My Hand
Which is a Part of Me.
It Comes with Lots of Love,
Especially to Say,
I Hope You Have
A Very Happy Thanksgiving Day!
Another fun craft project to make using your child's hand as a template is a Grateful Pumpkin:  All you need are orange and green paper, a green pipe cleaner, a hole punch and a pen or marker.  Start by cutting a sheet of orange paper into 1-inch strips.  On each strip, have your child write down (or tell you what to write) something for which they are grateful this Thanksgiving.  Punch a hole in each end of each strip.  Next, trace around your child's hand on the green piece of paper and cut it out.  On the palm area, write "I am thankful for".  Punch a hole at the bottom of the green paper hand as this will go on top of your pumpkin to be the leaves. Thread the strips of orange paper onto the pipe cleaner so that they fan out to make a rounded shape.  (See our example below.)  Twist the bottom end of the pipe cleaner to hold the pieces together.  Thread your green hand on the top and twist the top of the pipe cleaner so that it looks more leaf-like.  Everyone in your family could make one of these for a great display or centerpiece for your Thanksgiving table!
Friday, November 13

Today is Friday the 13th! To chase away any spooky feelings tonight, make it a Family Game Night. No one can be scared while playing fun Thanksgiving games! One great suggestion is to try out this Thanksgiving Drawing Game – All you need are blank pieces of paper and pencils, crayons or markers. It works just like other drawing games – you take turns, either one at a time or in teams, trying to draw a specific image and everyone else must guess what you are trying to draw. (If you work in teams, your teammate would be the one doing the guessing.) You can keep points or just do it for fun. To make this fun game perfect for the season, we have put together a list of November and Thanksgiving themed items you can use (insert link). (If you would like a copy of the list printed out, just ask one of your local NERL library branches.) Don't think you can draw well? Don't worry! That's part of the fun! Another fun variation is to use our list but play Charades instead.For a fun combination drawing project and game, play Autumn Tic-Tac-Toe by drawing a Tic Tac Toe grid on a piece of paper. Decorate the edges with fall leaves, pumpkins, turkeys and other signs of fall. Then use candy corn as markers to play the game. The winner gets to eat all the candy corn, but bonus points go to anyone who shares! If you are lucky enough to find white and orange mini pumpkins this year, you could also draw a grid with chalk on a your patio or porch or on a larger sheet of paper to make different versions of the game.
Wednesday, November 11
Today is Veterans Day, a day when we all come together to honor those who have fought for our country.  But did you know why we celebrate this day on November 11, no matter what day of the week it falls on?  It all goes back to World War I, known at the time as "The Great War".  World War I officially ended on June 28, 1919 when the Treaty of Versailles was signed.  But actual fighting in the war had stopped seven months earlier, when an armistice (an agreement to stop fighting) was signed at the eleventh hour on the eleventh day of the eleventh month – November 11, 1918.  And so in November 1919, at the one year anniversary of the cease fire, President Wilson declared the day to be Armistice Day to honor the veterans of World War I.  But in later years, as the U.S. became involved in other wars, the name of the day was changed to Veterans Day to honor those who had fought in any war.
To find out more about the history of Veteran's Day, check out this link from the Veteran's Administration website https://www.va.gov/opa/vetsday/vetdayhistory.asp.  On their website, you can also find a 16-page Teacher's Guide to the holiday.  The Department of Defense has also prepared a list of "5 Facts To Know About Veterans Day" to clear up some common misconceptions about the holiday, such as the fact that there is not an apostrophe in the holiday's name.  For the rest of the DOD list, check out this link:  https://www.defense.gov/Explore/Features/story/Article/1675470/5-facts-to-know-about-veterans-day/.  
Titles available at your local library about Veterans Day include:  Veterans Day by Rebecca Pettiford, Veterans Day–Remembering our War Heroes by Elaine Landau and The Wall: A Day at the Vietnam Veterans Memorial.
Don't forget to pick up your November children's packet filled with coloring sheets, activity sheets, craft project, game ideas, Thanksgiving inspired suggested reading lists and supplies to make several arts and crafts projects.  Included in the packet is an Owl template page courtesy of BuggyandBuddy.com.  If you do not have one of our packets yet, you can find their link here:  https://buggyandbuddy.com/owl-template/.  You can cut these pieces out to use to draw around to assemble your own Hoot Owl.  There is a large body piece, two wings, two large eyes and two small circles for the pupils of the eye.  (For some reasons, there is not a triangle for the nose, but you can easily free hand one or use the triangle template from our Fall/Halloween packet last month.) You can stick with traditional owl colors like brown or gray or make your Hoot Owl colorful with bright colors like blue and pink.  You can also draw feathers on your owl's body or glue on craft feathers.  BuggyandBuddy's original idea was to sponge paint the body with different squares of colors to make their version, so you could try that idea as well.  To give your owl its own personality, play around with the placement of the smaller circle that is the black pupil to its eye.  You can have your owl looking up, down or to one side or the other.   
Another owl craft idea is to cut a large brown "O" shape out of construction paper and glue it down on another color of paper (in our example below, we used purple).  This is a great craft for children just learning how to use scissors and manage a glue stick. Cut two wing shapes, a triangle nose, two smaller triangle ears and two round eyes out of the appropriate color of paper, then let your children glue them down.  You could use the template included in our packet for some of the shapes like the ears, eyes and nose.  Yet another reason to pick one up at your local library branch!
The Thanksgiving holiday at the end of this month is a time when we all enjoy spending time with our friends and families. Another great thing to do this time of the year is to think of all the things we are grateful for from the past year. Although the current pandemic has made this year difficult, there is always something for which to be grateful. The things that we are grateful for can be small things such as being happy that toilet paper is no longer hard to find, to more important things such as being grateful for good health or a warm house to live in.
To have a lasting reminder of the things that you are thankful for despite this difficult year, why not have each person in your family work on a Thankful Journal this month?
Journals can be purchased very inexpensively at many stores – even discount retailers such as Dollar General, the Dollar Tree and Dirt Cheap have great options for very little money. Notebooks or loose-leaf paper could also be used. Small children can use their journals to practice writing one or two words (or whole sentences as their skills allow) that express the things for which they are grateful, along with an illustration. Young children who cannot write yet can just draw their ideas or use stickers to represent them. An adult or older brother or sister could even write down an "explanation", if necessary, on the back side of their paper so that years later, you will know what they meant! For those who need a prompt to help get their creative writing juices flowing, you can pick a different question every few days to have them answer or just let each family member write what comes to their heart. A similar idea is to make a Family Gratitude Journal to represent everyone together. Each family member could take turns throughout the month writing and drawing on separate pages to show what they have been grateful for in 2020.
To help young readers learn more about the history of Thanksgiving and the importance of gratitude and giving thanks, check out these picture book titles: Duck and Hippo Give Thanks by Jonathan London, The First Thanksgiving by Jean Craighead George and Gracias the Thanksgiving Turkey by Joy Cowley.
See previous #FamilyActivities on our website at https://nereg.lib.ms.us/family-activities
For a fun game with numbers, try out this Turkey Racing Game, courtesy of the Fun Learning For Kids website at https://funlearningforkids.com/racing-turkeys-number-line-game/

The supplies and basic idea are simple: After creating a number line on a piece of paper, you will use turkeys you have made out of clothes pins to race the turkeys to the end of the number line. All you need are clothes pins, googly eyes (or draw on eyes with a marker), paper, craft feathers (if you don't have craft feathers, you could also have your kids draw those on a piece of paper, color them and cut them out) and a simple rolling die.
Another fun craft idea is to turn craft sticks (think orange, yellow or brown) into a turkey by gluing on craft feathers (or cut your own out of paper) on one end. Then add googly eyes (or draw eyes on with a marker), a red wattle and a tiny  triangle of a nose for a
quick but cute craft. You could also recycle a popsicle stick and paint it the color you want. This craft idea would also make an excellent bookmark to keep your place in your favorite book this month!
November's here so that means our library branches are handing out a new set of free Fall and Thanksgiving themed children's activity packets!  Our November packets have new coloring sheets, activity sheets, craft projects and game ideas, Thanksgiving inspired suggested reading lists and supplies to make several arts and crafts projects.  This month's craft projects include a Thanksgiving turkey, a food filled cornucopia and a confetti corn craft.  So stop by one of the branches of NERL TODAY to get your free packet!  We also have a new set of more detailed coloring sheets for teens and adults who enjoy the relaxing pastime.
One of the more popular activities in our October packets was the Scavenger Hunt sheet so we have created a new one for November.  It includes things to look out for as you walk along your street or drive around town – geese flying in a V overhead, falling leaves of all colors and a scarecrow, just to name a few.  You can even work on this Scavenger Hunt all month long as there are some things (pumpkin pie and Thanksgiving Parade balloons) that you will not be able to see until the end of the month.  You can view and print a copy of our Scavenger Hunt here … or pick up a copy from your local NERL public library branch.  Happy Hunting!
October 2020 Suggested Family Activities
It is not too late to contact your local library to pick up some great Halloween titles to read this weekend.  Since you will want them quickly, call your local branch to see what they have available.  In our system, you will find a variety of titles featuring classic characters for young listeners such as the Berenstain Bears, Jonathan London's Froggy, Curious George, Angelia Ballerina, Minerva Louise, Clifford and Pete the Cat.  You will also find other great titles such as Scaredy Squirrel Prepares for Halloween: A Safety Guide for Scaredies by Melanie Watt, Pug & Pig Trick-or-Treat by Sue Lowell Gallion, Scaredy-cat, Splat! by Rob Scotton and Frankenstein Makes a Sandwich and Other Stories by Adam Rex.
Children who can read on their own might enjoy Hank the Cowdog: The Case of the Hallowen Ghost, Magic Tree House: haunted Castle on Hallows Eve or June B., First Grader: Boo – And I Mean It! 
A Newbery Halloween: A Dozen Scary Stories by Newbery Award-Winning Authors contains something for everyone and would be a perfect title to use to pick stories to read out loud to the whole family.  Young reads who like graphic novels will want to check out Babymouse: Monster Mash by Jennifer L. Holm.
We also have lots of great adult fiction titles with a Halloween theme.  Mystery lovers might want to try Candy Corn Murder by Leslie Meier, A Catered Halloween by Isis Crawford or Murder in the Corn Maze: A Granny Reid Mystery by G. A. McKevett.  For thriller and suspense readers, we have Dark Tides by Chris Ewan, Do No Harm by Dawn Eastman and The Awakening by Shannon Drake, among others.     
Have a safe Halloween weekend and don't forget to change your clocks when Daylight Savings ends Saturday night/Sunday morning!
For a fun scavenger hunt activity this fall, check out the checklist included in the fall packets available at your local library.  It has pictures of common things you see during the fall, such as a red leaf, a pumpkin, a spider's web and a squirrel, as well as ones that might be more hard to find, such as geese flying in a V and an owl hooting.  Go out on a nature walk in your neighborhood or at one of the beautiful nearby state parks and have a family scavenger hunt to see how quickly everyone can cross things off the list.  Maybe the winner in your family even gets a special treat! 
Another fun activity you can do this week while also keeping your social distance is to pile all your family into the car and ride around and check out all the great decorations people have out.  From fall themed front porches to spooky Halloween yards, you will surely find something for everyone to enjoy.  You can even come up with your own Scavenger Hunt by making a list of things to look out for, such as a pumpkin, corn stalks, spooky ghosts or a witch.
When you carve your pumpkin for Halloween this year, don't throw away the seeds inside.  They make a great sweet or savory snack for your family, depending on what types of seasonings you decide to put on them.  For recipes on what other people have tried, just Google "roasted pumpkin seeds" for inspiration. 
This week is the last week to pick up a packet of Fall and Halloween coloring sheets, activity sheets and craft projects for your family! But don't worry, on November 2 a new packet will be available, full of new Fall and Thanksgiving themed ideas. One of the craft projects described in this month's packet includes:
Use your child's feet to make spooky Frankenstein Feet! Paint the bottom of one of their feet with a thick layer of green acrylic paint and then have them step onto a sheet of paper to leave an imprint. When the green paint has dried, let them use black paint and a paintbrush to draw stitch marks and bolts (see the picture for inspiration) and to paint in the toes to make his hair. For other details on his face, use a black marker or paint for his eyebrows and a squiggly line for his mouth. Don't forget a small white paint dot for his eye. When it's dry, the finishing touch is a small black circle to be his pupil.
You can also use their feet and hands to make bats and ghosts for Halloween. Using the same method, paint their feet with white paint for the ghost and black paint on their hand for the bat. Use our pictures below for inspiration or put your bat and ghost anywhere you like! Don't forget to use a contrasting color of paint or a marker to draw the faces on your ghoulies when the imprints are dry! For extra fun, draw a spider web coming out from your spider. Boo!
Another fun Halloween idea is to make your child's hand into a green witch by making an imprint with green paint. Once the paint is dry, use the picture below for inspiration to paint him or her riding on a broomstick. Give them a pointed witch's hat and long stringy hair – we used orange and black for Halloween colors.
As the weather continues to creep a little cooler, bundle up one night this weekend for a family night outside.  Have a backyard bonfire (in a safe location, of course, such as a fire pit or old grill) and roast hot dogs for supper.  Don't forget everyone's favorite s'mores or just toast big marshmallows by themselves.  If candy apples or caramel apples hit your sweet tooth, this is the perfect time of the year to make them ahead of time to enjoy later, such as while sitting around your bonfire.  After everyone has eaten, finish off the night with some hot chocolate or hot apple cider while you pull up your lawn chairs and cozy blankets to stargaze and enjoy the beautiful night sky.  This time of the year, you might be lucky enough to catch a big, orange Harvest Moon in the sky.  If your family likes music, maybe you could listen to some music outside or listen to an audiobook (your local library has them available for check-out, as well as e-audios available online through Hoopla and OverDrive, which recently replaced RB Digital).  And since it's October, some people might enjoy telling a ghost story or two – either a classic, family friendly one or everyone could take turns making up their own.  If the kids need to work off some energy before bed, a nice game of flashlight tag should do the trick.
October is National Eat Better, Eat Together Month.  This month, families are encouraged to gather at the same table to enjoy mealtimes.  When people eat meals together (as opposed to grabbing snacks at different times or individual meals 'on the go'), they tend to eat healthier and make better food choices so make it a priority to each one meal together as a family.  Eating together is also a great way to spend time together and share what you did during the day.  Some sample questions to get the conversation started could be:  What was the best thing that happened to you today?  What was the worst?  What was the funniest?  Did you meet someone new today?
To increase your family bonding time, make family mealtimes a special event by setting the table (even if it is just with paper plates).  Little ones can even help by putting out spoons, forks, butter knives and napkins for everyone.  Don't forget to get everyone's help in planning and cooking your meals – and ESPECIALLY for the cleanup.
To make family mealtimes work with everyone's hectic lifestyles, try planning out and preparing several meals ahead of time.  A little time spent during the weekend to plan out the next week's meals, prep ingredients or even make meals ahead to freeze for later will pay off with a huge time savings during the week.  Another idea to try is to have breakfast for supper.  Breakfast items are some of the quickest and easiest meals to make so why not have it for supper?  Whether it's oatmeal with fruit topping, bacon and eggs or sausage and biscuits, breakfast for supper is a great treat for the whole family.  
If you need some cooking ideas, check out the following titles from your public library.   30-Minute Cookbook: 300 Quick and Delicious Recipes for Great Family Meals, The Busy Mom's Cookbook: 100 Recipes for Quick, Delicious, Home-Cooked Meals by Antonia Lofaso, Cat Cora's Kitchen: Favorite Meals for Family and Friends by Mississippi's own Cat Cora and The Complete Cookbook for Young Chefs are just some of the many cooking titles available.

Suggested #Family #Activity
Little ones who are just learning how to use a glue stick can practice this skill by making an Autumn Tree using the same concept as a traditional paper chain. With an adult's help, paper links in a variety of fall leaf colors (gold, red, orange) can be cut out of colored paper. Glue each link together individually, though, instead of making them into one long chain. Then cut a wide strip of brown paper for the tree's trunk and have the child glue it onto a sheet of paper. Last, they can glue each paper chain individually in a cloud formation at the top of the trunk until they have a full and beautiful autumn tree.
Jumping into a huge pile of leaves is fun for kids of all ages – whether they are toddlers or kids at heart. A great way to get the whole family's help raking leaves is by promising your kids a chance to dive right into the biggest pile in the yard! But afterward, get their help to clean up all the leaves into trash bags or raking them to the side of the road. The whole family pitching in to do your fall yard cleanup will give you another opportunity to bond, as well as make the dreaded task seem less of a chore.

Suggested #Family #Activity
Younger crafters can practice cutting and gluing simple shapes like this Jack O Lantern this month. Parents can draw out a large 'J' shape out of orange construction paper, a short brown piece for the stem out of brown paper and a leaf shape out of green. Let your child help you decide how to make the face by arranging cut out triangles for the eyes, nose and a funny mouth out of black paper. Once all the cutting is complete, kids can practice gluing it all down on a black piece of construction paper.
If your child is learning how to spell their name, a great learning activity is to give them old newspaper or magazines to look at and cut out the letters they see that spell out their name. They can also practice gluing them onto a piece of paper in the right order. If they are not ready for scissors yet, an adult or older child in the family can cut the letters out ahead of time. If you do not have any old, printed materials to cut apart, check with your local branch. Our public libraries often have donated magazines to give away for free. If you don't want to cut anything apart, you can play "I spy" with one of your own books and have them just use their eyes to go through the book and look for the letters that spell their name. You can also use this activity when you have little ones just learning their letters. You can ask them to help you find all the letter 'a', 'b', and so on. And if they are learning how to distinguish between lower-case and capital letters, you can use the same techniques – have them cut out a lower-case "A" and an upper-case "A" and glue them together on a piece of paper or just spot them in a book.

Today is National Bring Your Teddy Bear 🐻 to Work or School Day so cuddle up with your favorite childhood friend and take them wherever you go throughout the day. It's also National Dessert 🧁 Day! Celebrate this delicious day of treats by indulging in your favorite dessert, whether it is chocolate, candy, cakes, pies, ice cream, fruit, cookies or any of the other wide variety of desserts.
For a combination drawing project and game to get you in the 🎃 Halloween spirit today, draw a Tic Tac Toe board on a piece of paper. Decorate the edges with pumpkins, bats, spiders, and other signs of Halloween. You can purchase inexpensive bat 🦇 or spider 🕷 plastic rings or toy pieces from the dollar store to use as your place markers or use pennies, small rocks or other small trinkets you have at home. For some great Halloween themed picture books for children, check out the wide variety available at your public library, where you can also pick up a list of Halloween books for all days – from little ones through adults. Some of the great picture books available includes Froggy's Halloween by Jonathan London, Click, Clack, Boo!: A Tricky Treat by Doreen Cronin, Curious George Goes to a Costume Party and Frankenstein Makes a Sandwich and Other Stories by Adam Rex, just to name a few. 
Have you stopped by one of the branches of the Northeast Regional Library System to pick up a packet of Fall and Halloween coloring sheets, activity sheets and craft projects for your children yet?  One of the craft projects included this month is to make your own Scarecrow Door Hanger and all the supplies are included!  Our scarecrow is made from a simple paper plate, which are great to keep on hand as a cheap and easy craft supply.  You can also turn one into a spider by adding lots of wiggly eyes (or draw them on yourself) and pipe cleaners for the legs. 
Try out these ideas for more craft fun this month:
You can turn the cardboard tubes from toilet paper and paper towel rolls into a variety of fall friends by using paint or colored paper and whatever craft supplies you have on hand.  Use orange to make a pumpkin, green to make a Frankenstein or a wicked witch, white strips to make a mummy, plain white to make a ghost – your imagination (and maybe a little help from Google), is your only limit!
Turning a sucker into a ghostly treat is a classic Halloween craft project.  All you need is a sucker with a round top, such as a Tootsie Pop or Dum-Dum, a white coffee filter or tissue paper and a small piece of string or yarn.  Place the white filter or tissue paper around the sucker and tie the yarn around the bottom of the rounded part of the sucker to create the ghost's head.  Then, cut off any excess paper or filter at the bottom.  As a final touch, use a marker or pen to draw in eyes and a mouth on your ghost.

Have fun today by making up stories about random pictures.  It could be a family snapshot or a random picture out of a book or magazine.  If the person telling the story needs prompting, ask them to tell you who the main characters are, what they are doing, and why they are doing it.  Assure them that there's no right or wrong answer – it's just fun to create a story from your imagination.  Young children can be asked about key details like colors and the names of objects seen in the picture.
Storytelling is fun for the whole family – everyone can play along, no matter their age!  For young children, telling stories helps them to improve their vocabulary, as well as their descriptive and narrative skills.  Telling stories is also beneficial to senior adults as this activity can help to keep their minds sharp.  It's also a great way to connect with each other and strengthen the bonds of your family.

This fall, make Leaf Stained Glass.  As you go for your daily walks, be on the lookout for brightly colored fall leaves.  Hopefully you'll be able to find beautiful ones in gold, orange and red in all shapes and sizes.  When you get back home, press and save them using wax paper and an iron.  You will need to make sure that the piece of waxed paper you tear off is big enough that you can fold it in half.  Lift up the top layer of paper and sandwich your collection of pretty leaves in between the two layers of waxed paper.  Arrange them in a pretty pattern.   (To add extra color, you can also shave waxed crayons over the blank spaces of the paper.)  Flip the top sheet back down and with an iron set on medium heat (and an adult's help), slowly and careful iron the wax paper until the paper seals in the leaves.  To turn this activity into a learning experience about trees, challenge each other to identify which leaves came from what type of trees. 
If you need a handy tree identification guide, your local library has titles that can be checked out.  Some titles include The Audubon Society Field Guide to North American Trees, The Eyewitness Handbook of Trees and A Field Guide to Eastern Trees.  Hoopla has digital titles that you can borrow on your laptop, tablet or smartphone, including several aimed at young children.  In addition to tree identification titles, check out the picture e-books Why Do Leaves Fall from Trees? by Ruth Owen, Fall Leaves by Loretta Holland and What Happens to Leaves in Fall? by Rebecca Felix.

Don't forget to stop by one of the branches of the Northeast Regional Library System for a fun-filled packet of coloring sheets, activity sheets, craft projects and more for your children.  One of the craft projects included this month in the packets is to make your own Spooky Flying Bat and all the supplies are included!  If you pick up a packet, you can also use the wing templates to turn a plain brown paper bag into a bat by coloring the 

bag black and adding wings, ears and teeth – just like a larger version of the one in your packet.
If you like adult coloring sheets, you can also request a bundle of those this month!  Designs for these sheets are drawn in the more detailed, intricate style as seen in adult coloring books and feature signs of falls such as pumpkin patches, apples, fall leaves, cute hedgehogs, owls and snails as well as Halloween pictures such as candy corn, ghosts in a cauldron and a spider in a web. 
Another fun craft project idea is to make a Cat On A Stick with a popsicle stick and a few pieces of paper.  Cut two large round circles to be the body and head of the cat.  (Use black to make a spooky Halloween cat.)  Glue them to one side of your popsicle stick.  Cut triangle shapes from black paper to be the ears and a pink square and oval for his mouth and glue them down.  Next, cut four crescent moon shapes from yellow paper to be the spooky pupils to the cat's eyes.  Glue these down standing on their points and facing towards each other.  Then cut out small black strips to be the whiskers (or use pipe cleaners, if you have any).  Your cat is now complete!

The branches of the Northeast Regional Library System will be handing out free Fall and #Halloween themed packets during the month of #October. These packets are filled with coloring sheets, activity sheets, craft project and game ideas, Halloween inspired suggested reading lists for all ages and supplies to make two craft projects. (The craft project supplies will make a fun Scarecrow Door Hanger and a spooky Flying Bat. The packets will include a photo of the completed project and full written instructions.) Stop by one of the branches of NERL TODAY to get your free packet!
One suggested craft idea in the packet is to make Caramel Apples with colored paper – just as much fun but without all the stickiness! You can use the template found here: https://www.gluedtomycraftsblog.com/…/caramel-apple…, courtesy of Glued To My Crafts or draw your own apple shape. Then use colored foam, felt, cardstock, construction paper or just markers and colors to turn in into your favorite fall treat. To create the caramel part on the bottom, you can use a different colored paper, glitter, or color it a nice caramel color like light brown.
September 2020 Suggested Family Activities

As cooler weather arrives in our area, now is a good time to go over home safety rules with your family.  Together, sit down and discuss what to do if there is a fire, natural gas or carbon monoxide emergency.  Where will you meet outside?  Who is in charge of making sure everyone is present?  Who grabs your family's pets?  All these questions should be decided upon before the unthinkable happens.  Have young children memorize Stop, Drop and Roll if they should get fire on their clothing and practice it occasionally to help them keep it fresh in their minds.  Also practice fire drills to make sure everyone understands what to do.
Fall is also a great time to perform a Safety Inspection on your home.  Test your fire extinguishers, smoke detectors and carbon monoxide detectors and replace the batteries.  As a final safety step, make sure young children have their first and last names, address and an adult's phone number memorized and that they know how to operate a phone to dial 911.  
As part of your Safety Inspection, have your family look out for clutter that blocks doorways, stairways and places where people walk through your home.  Young children can check that their toys are picked up, while older kids can help look for other potential safety hazards like damaged electrical sockets and frayed cords on electrical appliances.  For a full list of things to look out for, "Google" home safety checklist for several options.

Have a Family Game Night Marathon. Stay in for the evening, get cozy in your jammies and have a game night marathon. There are different games for all ages, but Bingo is a favorite for almost everyone in the family (print your own bingo cards at https://myfreebingocards.com/). You can make it even more fun by adding prizes for the winner, like gift cards, candies or extra TV time for the kids.
Not sure which games to play? Check out this list: Cool Board Games and Board Game Tournament on Hoopla Digital.
Today is National Comic Book Day.  Comic books, and the superheroes who live within their covers, are not just for kids anymore!  The industry has grown to include award winning graphic novels, full-length books for all ages, and countless movie adaptations.  Comic book heroes such as Superman, Batman, the Avengers, Wonder Woman and Captain America (just to name a few) are now part of everyday pop culture.  To celebrate National Comic Book Day today, the whole family can dress up like their favorite characters.  For those who like to tell stories and draw, try your hand at creating your own comic book.  All you have to do is let your imagination run wild! 
Librarians, teachers and parents have learned over the years that letting children read comics and graphic novels gets reluctant readers interested in reading, makes them more interested in continuing to read for fun, builds their confidence as readers and helps to improve their vocabulary.  Your local library branches can help you and your family discover the world of superheroes! 
For our youngest patrons, parent can read The Avengers Storybook Collection or Bedtime for Batman by Michael Dahl to them.  Junior readers will enjoy reading The Amazing Spider-Man 2: The Oscorp Files by Brittany Candau and Catwoman's Classroom of Claws by Scott Sonneborn.  For Young Adult readers, we have Ant-Man, Natural Enemy: An Original Novel of the Marvel Universe by Jason Starr, Batman: Nightwalker by Marie Lu and Wonder Woman : Warbringer by Leigh Bardugo, both part of the DC Icons series.  For adults, we have All-Star Batman: A DC Universe Rebirth by Scott Snyder, as well as several graphic novel series starring Batman, Superman, the Avengers, the Fantastic Four and more.
The National Book Festival also begins today!  Sponsored by the Library of Congress, this event will be entirely virtual this year and is completely FREE to watch.  Featured authors this year include Mississippi native John Grisham and Newbery Award winner Jason Reynolds, among many others .  The National Book Festival has events all weekend long for all age groups so visit the LOC website for more information: https://www.loc.gov/events/2020-national-book-festival/about-this-event/.
Many PBS stations will also be broadcasting events so check your local listings as well.
As our thoughts turn to the upcoming winter holidays, now is the time to brush up on your cake baking and decorating skills. Your local public library has lots of titles to help you out, including Cake Decorating for Dummies by Joe LoCicero, The Cake Mix Bible and The Essential Cake Decorating Guide, just to name a few. Learning this skill as a family is a great weekend activity. Baking together is not only fun, it teaches children units of measurement (teaspoons, tablespoons, cups, etc.) and how ingredients work together (wet versus dry).
A fun craft project for kids is to let them decorate a shoe box or square shaped small box to look like it's a birthday cake. They can cover it with a thick layer of a basic white shaving cream and then have an adult help them add food coloring drops to make it different colors. The top can then be decorated with whatever supplies you have on hand – sprinkles and hard sugar or candy decorations like you would use on a real cake or craft supplies you have that mimic the look such as buttons or glitter.
Enjoy the cooler weather this week by heading outside as much as possible.  One fun idea is to have a Game Picnic.  Take your lunch or supper outside and enjoy it while sitting at a picnic table, a patio table or even a nice, comfy blanket or quilt spread out in the grass.  After you get finished, play your favorite family board game or card game in the fresh air.  You could also take puzzles outside and put them together as a family.  You can also have a race to see who in your family can put a short puzzle together the fastest.  An adult can time each family member to see who is the fastest! (To turn this into an easy beginner STEM activity, have a child draw a simple chart with each family member's name.  They can record each person's time on the chart and then compare the numbers to see who took the shortest amount of time, who took the longest and what the average family time was.)
When you need a brain break, run around and play kickball, frisbee, freeze tag or any other outdoor game your family enjoys.  Maybe you have a basketball goal to shoot a few hoops or maybe you will even toss a ball to each other.
If you play past dark, you might need a jacket or a sweater, but you can finish off the night by catching a few late season lightning bugs before heading back inside.
Tomorrow is Talk Like a Pirate 🏴‍☠️ Day! Arrghhh! Have you ever wanted to be a pirate? 🦜 You can pretend to be one today! Grab a scarf or a bandana to wrap around your head, neck or waist and an eye patch if you have a toy one. If you don't, you can make one from a black piece of construction paper and a piece of yarn to tie it onto your head. Pirates call their friends "Matie" and their superiors (like their parents!)
"Captain". When they want to say 'Yes' to something, they say, "Aye, Aye!". So when your parents ask you to do something today, answer back, "Aye, aye, Captain!" Other pirate phrases you can use today are "Ahoy!" and "Avast!".
To make your own Pirate's Treasure Chest to keep your own pirate treasurers in, get an empty shoebox and cover it with construction paper, wrapping paper or even a brown shopping bag cut apart. Once your box is covered, decorate the outside with crayons, markers, glitter, jewels or whatever you have on hand. When you're finished, put all your treasures inside! You can also play the pirate game Island Hopping today. Place several large pillows in an open area and hop from pillow to pillow, pretending you are going from one island to another. When you land on each one, call out "Land Ho!". Make sure you do not fall off the island into the water! As you move from island to island, make up crazy stories about what waits for you in the water, such as crocodiles, as well as the great things you are seeing on each island. You can also Walk the Plank by putting down a length of tape on the floor and seeing if you can walk from one end of the other without falling off the line.
Some great children's books to read about pirates include Are Pirates Polite? by Corinne Demas, Bubble Bath Pirates by Jarrett Krusoczka, How to be a Pirate by Cressida Cowell and Imagine You're a Pirate by Meg Cibbon
September is Save Your Photos 📷 month so take time this month to make sure that you have all your precious family memories saved and backed up in multiple places. In our increasingly digital world, most people keep their photos on their phones 📱 or maybe their computers 💻 or tablets. Some phone companies use cloud storage as a back-up solution. But children these days could also benefit from seeing family photos nicely arranged in a family photo album or scrapbook. Plus, it is a great project to work on together! Purchase an inexpensive photo album this month and have copies of your best photos printed at a photo processing center. Better yet – have two sets made of those featuring your young ones and give them their own set to make their very own special family photo album to keep in their room.
Children of all ages love to draw with colored 🖍 chalk, which can be found inexpensively at dollar and discount stores. Let them unleash their creativity by drawing and writing today on your sidewalks, driveways, porches, patios or anywhere else you have a hard surface outside your home. Sidewalk artists in large cities like New York create beautiful masterpieces with just a few colors! For young children just learning their alphabet and how to count, you can have them practice writing their letters and numbers with colored chalk outside to make it a fun learning activity. To add another element to the activity, write the letters in random order in various places scattered around your space. Give your child a small water gun or water bottle and as you call out the letters of the alphabet in correct order, they must find it and spray it with water. (This will also give them some great exercise, especially if you spread the letters out!) If you do not have anything for them to spray water with, you can give them a plastic cup of water and a paintbrush to cross off the letters you call out. Using a paintbrush and water to draw or write on porches, sidewalks or other concrete places is also a great way for young children to practice writing in a fun (and non-messy) way. Or if you don't mind them getting a little messy, letting them use their fingers in shaving cream is also another creative way for them to practice writing letters. All you have to do is spread out a layer of a plain, white shaving cream to be their writing surface and let them write away!
You can also come up with all kinds of chalk drawing challenges to keep older children entertained. For example, you can call out the name of an animal and they must draw it or you can call out a type of fruit and so on. If you want to get creative, you can try making your own sidewalk chalk – just mix equal parts water and cornstarch until it is smooth. Then you can color it with drops of food coloring.
September 11th is #PatriotDay and a National Day of Service and Remembrance. Patriot Day honors the memory of those who lost their lives in the September 11, 2001 attacks. Your public libraries have many books 📚 for both adults and children about the September 11 attacks. Two of the ones specifically aimed at helping children understand what happened include Understanding September 11: Answering Questions About the Attack on America by Mitch Frank and I survived the Attacks of September 11, 2001 by Lauren Tarshis.
As part of Patriot Day, today has also become a National Day of Service and Remembrance. Americans across the country are asked to volunteer in their local communities to honor the individuals lost and injured in the attacks, those who are first responders, and the many who risk their lives in service to defend our freedom. During this COVID-19 pandemic, volunteering safely can be a little tricky though. Some ideas for how to safely volunteer during this time include donating to a nonprofit organization of your choice, whether it is food items to a local food bank, newspapers and pet food to the animal shelter or blankets and personal care items to a homeless shelter. Another way to volunteer is to deliver a meal or food and other supplies to someone you know who cannot get out because of the pandemic. Or you could make a point of staying in touch with those who live alone – maybe an elderly neighbor or a relative who lives by themselves. A simple phone call or text would brighten anyone's day
Today is National Teddy Bear🧸 Day.  Did you know the teddy bears we all know and love have their roots in our state of Mississippi?  While on a hunting trip in the Mississippi Delta in 1902, President Theodore Roosevelt refused to shoot a bear 🐻 cub.  A newspaper artist drew a cartoon to make fun of him but it didn't work.  The Teddy Bear soon became children's most favorite toy. Some famous teddy bears include Fozzie from the Muppets, Paddington Bear, Winnie the Pooh and the Care Bears.
To celebrate National Teddy Bear Day, think about a special teddy bear you have or had.  You could have a Teddy Bear Tea Party 🎉 or a Teddy Bear Picnic 🧺 with your teddy bears and all their other stuffed animal friends.  During this COVID-19 🦠 pandemic, some people have been putting teddy bears in their windows, on their porches or on mailboxes so that children driving away town can look for them.  You could also give a teddy bear to someone who might need one to love 💗 maybe a friend or a neighbor.  You could also donate teddy bears to a local group to give to children who need them.  Some police and fire departments keep teddy bears to give to scared children. 
If you like to color, you can print out the official National Teddy Bear coloring page at this link: https://n7jmr7muhj-flywheel.netdna-ssl.com/wp-content/uploads/2020/08/Teddy-Bear-coloring-page.pdf.
Do you have broken pieces of crayons 🖍hanging around in your crayon box? If so, try this activity: Cover a paper plate with aluminum foil and place cookie cutters onto it. Add your broken crayon pieces within the boundaries of the cookie cutters and place it out in the hot sun 🌞 for it to melt. Keep watch on your creation and when the colors become mixed together just right, take the plate inside to cool down. Make sure to let it cool completely before taking away the cookie cutters and enjoying your new jumbo crayon creations! You can also make new crayons in other shapes if you have silicone candy or soap molds, which can be found in a variety of shapes and sizes. Or you can make new square crayons by using plastic ice cube trays. Another broken crayon craft idea is to shave off little pieces of broken crayons into clear plastic Christmas ornaments that are sold at craft and dollar stores. You can heat the sides of the plastic with a hair dryer until they melt and make interesting patterns, with an adult's help, of course!
While you're waiting for your crayons to melt, read Drew Daywalt's zany picture books The Day the Crayons Quit and The Day the Crayons Came Home, the classic Harold and the Purple Crayon by Crockett Johnson or Red: A Crayon's Story by Michael Hall. To find out how crayons are made, check out Wax to Crayons by Inez Snyder.
For some outdoor water fun today, let your children clean their "rides"! Have them round up all of their Big Wheels, tricycles, bicycles, scooters or anything else they have that they ride on. Add baby shampoo or mild, chemical free laundry detergent to a bucket of water and give them sponges or old rags to wash their "rides" clean. Once the vehicles are nice and soapy, spray the suds off the vehicles with the water hose – then turn it on your kids! No one can resist playing in a water hose!
For more water fun, make your own slip and slide with plastic sheeting or a tarp and a water hose. Or have a good, old-fashioned water balloon fight. If you have water guns handy, you can even have a water gun race. Get two or more plastic cups and have an adult poke a hole in the bottom of each. Next, thread string or a piece of yarn through the hole and tie it securely to a starting point and an ending point. Try using your porch post, a fence, trees, or even kitchen chairs brought outside for this purpose. Fill up your water guns and squirt water into the cups to make them race along the string. The first one to the finish line is the winner!
Today, why not make a journal jar? A journal doesn't just have to be a diary or a recording of what you did every day. It can also be a book where your child can write about ideas they have, make up stories, draw pictures or answer questions such as, "If you could do anything at all next summer, what would you do?" This is where the journal jar comes in – it's where you store all the story ideas, prompts and questions to use when your child wants to work on their journal. You can use a wide-mouth Mason jar, recycled peanut butter jar or similar type of jar that has been washed, cleaned and dried thoroughly. (Here's a tip: If you can't get the smell out of an otherwise clean jar, try putting two or three spoonful of coffee or baking soda and sealing it up for a few days. Either one of these should absorb the smell.) You can even decorate it however you like, for example with glitter paint, ribbons or a sticker. Then write or print out writing prompts, ideas and questions and put them into the jar. Each day, have your child draw a slip and draw and write in their journal, depending on what the slips says to do.
For your journal, you can use plain pieces of paper stapled together, a small notebook or notepad or an actual journal. One that has blank pages will inspire those who love to draw pictures, while those with printed lines will help beginning writers
August 2020 Suggested Family Activities
Monday, August 31
Today in National Trail Mix Day! The mix was originally developed as a healthy snack to be taken along on hikes because it is lightweight, easy to store and good for you. Traditional versions have dried fruits (such as raisins, cherries or pineapples), nuts (such as peanuts, cashews or almonds), loose granola and even chocolate chips or M&Ms! So celebrate National Trail Mix Day today by making your family's own version to take on your next family walk or for any time you're craving a great snack. Child-friendly versions can include pretzels or pretzel sticks, Goldfish or other small crispy snacks, small cereal pieces like Cheerios or Chex and marshmallows. You can even get fancy with yogurt covered raisins. Package your homemade trail mix in individual snack bags for the whole family to enjoy their own servings. Today is also the last day of August, which has been National Sandwich Month. So while you're making your trail mix today, make your favorite sandwich too! Do you like white bread or wheat bread or even multi-grain? Or how about rye, pumpernickel or sourdough? Or do you like your sandwich on a croissant, a roll or in a wrap? What do you like inside your bread – ham, turkey, or roast beef? Pickles, lettuce, tomatoes, olives, cucumbers or even onions? The sky's the limit with sandwiches! Some people even like to put chips inside their sandwiches! After you've finished making your sandwich, draw a picture of the biggest, tallest sandwich you can imagine! If you'd like to read a funny children's book about a sandwich, check out The Bear Ate Your Sandwich by Julia Sarcone-Roach or The Giant Jam Sandwich by John Vernon Lord from your local library. Or for sandwich making ideas, check out Super Sandwiches: Wrap'em, Stack'em, Stuff'em by Rose Dunningham from your library or the e-book 400 Ways to Make a Sandwich by Eva Greene Fuller from Hoopla.
Friday, August 28
Painting rocks is a fun activity that can be enjoyed by everyone in your family. All you need are rocks, small paint brushes, water and inexpensive acrylic paint. The first step is looking around for rocks to paint. Big ones will give you lots of room to paint whatever design you like but part of the fun of looking for rocks is finding one whose shape reminds you of something. A rock with a square shape could be turned into a school bus or even a building while a small, round one is perfect for a flower or a sun. If you Goggle "rock painting," you will get lots of great ideas – you'll see ones painted to look like M&Ms, pieces of fruit or even funny faces. Packs of inexpensive paint brushes and small bottles of acrylic paint in a large variety of shades can be found at dollar stores, Hobby Lobby or Wal-Mart for around $1.00.
After you have painted your rocks, another part of the fun is putting them out in a public place so that someone might come across it and it brighten their day. There are several NE Mississippi groups devoted to this past time so look into them if you want to join the fun. Books that might give you a starting point include Painting on Rocks For Kids by Lin Wellford, available at both your local library and on Hoopla. Also available on Hoopla include The Art of Rock Painting by Wellford, The Little Book of Rock Painting by F. Sehnaz Bac and Painting Rocks by Dana Meachen Rau.
Today is National Dog Day so give your four-legged friend a big hug to show them your love! National Dog Day celebrates all breeds, whether pure or mixed. It honors family dogs as well as dogs that work selflessly to save lives, such as medical service dogs and those used by local police departments and search and rescue teams.
To celebrate this day, draw a picture of your dog. You could also write down a funny story about your dog and illustrate it. If you don't have a dog, draw a picture or write a story about a service dog you have heard about. Make sure to give your special friend lots of quality time today by brushing them, taking them out for a long walk, giving them doggie treats or taking pictures of your dog. You could also help out an elderly or disabled neighbor or someone else who needs help by offering to walk their dog for them.
National Dog Day also hopes to bring attention to the thousands of dogs who need a good home. If you would like a dog of your own, visit your local animal shelter to find out how to adopt one! You could also ask them for ways to help, such as volunteering to walk dogs in the shelter or just give them some play time with a person. Some shelters also let volunteers help clean out cages. They could also use donations of newspapers, blankets, food and toys for the toys. For more information about dogs in general or how to take care of one, ask your local librarian to find you a book at the library.
Knowing how to follow instructions (whether verbal or written) is an important part of life. So is understanding how to correctly GIVE instructions to someone else. Play a game of "Tell Me How" today to review your own skills and to help little ones understand how to give step by step instructions. Have your child (or the other person you are playing with) pretend that they are writing to a space alien who doesn't know anything about humans or our culture. (Little kids who can't write yet can just say their steps out loud.) Fun things to choose to write about could be how to brush your teeth, how to make a sandwich or another simple kitchen task or even how to ride a bike. The directions should be step by step to tell the space alien what to do. After the child has their instructions ready, the other person pretends to be the space alien and does the steps exactly as they are written. Your child may be surprised at what they left out!
Another fun way to reinforce following directions is to play the classic game "Simon Says." The person who is "Simon" calls out directions for things to do like jumping on one foot or blinking 10 times. Remember, you have to listen closely and only do the things "Simon" says to do. Let everyone in your family have a turn at being "Simon".
Make tonight Pizza Night for your family! Children love to make their own pizzas and it is so easy to do with pre-made crusts and pizza kits from the grocery store. Divide the dough into kid-sized pizzas and let them have fun picking out their own toppings. For those who like veggies on their pizzas, you could even let the children help (or at least watch) you chop or cut up peppers or mushrooms to go on your pizza. Experiment with different sauces – marinara, pesto, or even BBQ, as well as different types of cheeses like mozzarella, Italian blends or American. And don't forget the meat toppings – pepperoni slices are always a hit but how about trying Canadian bacon slices or crumbled sausage or bacon. A BBQ pizza is also a favorite in the South. For those who don't eat meat, making a veggie pizza with broccoli, cauliflower, and shredded carrot to mimic cheese is a great alternative. Dessert pizzas are also a lot of fun – use cookie dough as the base and toppings such as chocolate chips, marshmallows, caramel or Nutella.
While you're waiting for your pizzas to cook, draw a picture of the craziest pizza you can think of! Or read one of the great children's book featuring pizza such as Curious George and the Pizza by Margaret and H. A. Rey and The Little Red Hen Makes a Pizza by Philemon Sturges. If you're already a pro at making homemade pizzas, check out these great titles for more ideas (all are available through your local library branch): Pizzapedia: An Illustrated Guide to Everyone's Favorite Food by Dan Bransfield, Pizza Night: Top It, Stuff It, Twist It or The Teenage Mutant Ninja Turtles Pizza Cookbook by Peggy Paul Casella.
Going on a daily walk together is always great exercise. Some people even like to take their pets for a walk too. Today, when you go for a walk, how about making it a Measure Mother Nature Walk? As you take a walk around your streets or neighborhood or visit a local park, take a ruler with you so that you can measure random objects. Is your ruler long enough to measure a tree? How about a flower? Or a rock? This activity is a great way for children of all ages to learn about measurements. If you want to really be a scientist, take a piece of paper or a small notebook with you and write down your measurements so that you can compare them later. Ask children questions such as, "Is a flower bigger or smaller than the rock you found?" Measuring is also a great way to learn how to count.
Another fun thing to do on your family walk is to turn it into a Sound Scavenger Hunt. Write down the different things you hear – dogs barking, doors slamming, lawn mowers running or children playing. If you want to add another element to your hunt, everyone can guess what sounds they might hear before you start off on your walk and have an adult write down. Take a sheet of small stickers with you and give everyone who guessed they would hear a dog barking, for example, a sticker. By the end of your walk, you can see who has the most stickers. (This variation will be especially fun for younger children.)
Did you know old magazines have a variety of fun and educational uses? For one thing, they have lots of bright pictures and illustrations that children can cut out to make collages. A collage is a piece of art that is made by using various types of paper like photographs, colored and textured paper or things cut from magazines. Magazines are also great because they have lots of brightly colored words in headlines that can be cut out. Children can make collages out of magazines and even add in their own drawing and writing. They are also an inexpensive tool parents can use to teach toddlers the names of things or what letters stand for. Parents can go through a magazine with a toddler and have them point out any "A"s they see, and so on.
Magazines are also a great source of what is called "environmental print". This term refers to signs, logos and symbols that children see everyday and can recognize without being able to read. For example, even children who don't know how to read can recognize the Golden Arches symbol as belonging to McDonald's or that the red sign on the road is a STOP sign. For younger children, they can make their own environmental print book by folding 8.5 x 11 pieces of paper in half long wise and then stapling them together. Children can then cut out pictures from the magazine and write the names of what they go to, an activity that is also a great way to practice hand writing. Magazines are also a great thing to use for toddlers just learning how to use scissors!
Some of your local library branches may have free or low-cost magazines that you can pick up during curbside delivery. The Headquarter library in Corinth has lots of free magazines that are yours for the asking, so call today!
Tomorrow is National Relaxation Day. Families in today's world seem to lead a fast-paced and hectic lifestyle. During this COVID-19 pandemic, our lives have definitely been turned topsy turvy. We could all probably use a day to slow down and take a moment to relax and unwind. We all need reminders to take a few hours (or a whole day!) to focus on taking care of ourselves. Working too much, whether you're an adult or a child just starting school, can make you feel run-down, sick and tired all the time. Taking a moment to rest our tired minds and bodies could help prevent many health risks, too. It has been proven that stress can be harmful to our health, both mentally and physically.
Would you like to try to improve your memory? Who wouldn't, right? Try this fun family game from the book Family Fun & Games to test your families' powers of observation. Put about 20 small objects on a tray or a table. Cover them with a cloth so that nobody can see them yet. Uncover the objects and allow the players about 3-5 minutes to try to memorize them. The players are not allowed to make any notes. At the end of the time limit, cover the tray with the cloth again and give each player a pencil and paper. The players must write down as many objects as they can remember. The winner is the player who remembers the most objects. For families with young children, the game could be modified to use less objects. The children could then tell the adult what objects they remember, instead of having to write them down.
Your local library branches also have lots of books that could help you improve your memory, including 101 Ways to Improve Your Memory and 12 Steps to a Better Memory. Great picture books for children include The Forgetful Bears by Larry Weinberg, Seriously, Snow White was SO Forgetful! by Nancy Loewen and Ollie Forgot by Tedd Arnold.
Yesterday was National Book Lovers Day!  If you didn't celebrate it yesterday, take as much time as possible today sitting in your favorite place and reading – and don't forget to turn off your phone.  Adults can set a good example for their children by letting them see you reading for fun.  Reading a book together is also a wonderful way for families to connect to each other.  The benefits to children are immeasurable.  You can also record a video or sound recording of you reading a favorite story for a child so that they can watch or listen to it when you're not home.  Another great way to celebrate the love of books is by giving a copy of your favorite book or one that you think they might like to someone you know – maybe a neighbor or a friend or someone else in your family.
You know who loves books the most?  The people who work at your local library branch, of course!  Let them know what books you love, and they will help you find others that you might like.  Librarians are always happy to help you find new things to read, even if it's on the phone or by email during this pandemic.  So contact one today! 
Friday, August 7
Tomorrow is Global Sleep Under the Stars Night. You can celebrate by having a camp out in your own backyard this weekend and taking time to look up at the stars. Gazing up at the night sky can feel very peaceful as you appreciate the wonder of space. If you don't want to put up a tent, you can put out blankets or sleeping bags in your yard so that the whole family can enjoy looking at the stars. This year's celebration is also happening during the middle of the Perseid meteor showers. To learn more about good times to see meteor showers, visit https://www.amsmeteors.org/meteor-showers/meteor-shower-calendar/. So, if you're lucky, this weekend you might be able to see some shooting stars!To learn more about constellations, check out some of the books at your local branch such as The Kids Book of the Night Sky by Ann Love and Wishing on a Star: Constellation Stories and Stargazing Activities For Kids by Fran Lee. Hoopla also has lots of e-books about constellations, including this one geared specifically for kids: Stars So Bright: Book of Constellations, part of the Children's Astronomy and Space Books series.
Thursday, August 6
Today is both National Root Beer Float Day and National Wiggle Your Toes Day so celebrate them both by wiggling your toes while you enjoy a nice, cold root beer float. To make a root beer float at home: Put a scoop of vanilla ice cream in a tall mug that you've put into the freezer until it feels ice-cold. Pour in some root beer and there you have it! This classic treat is loved by generations! Now, while you're drinking your float, make sure to wiggle your toes. You can also celebrate Wiggle Your Toes Day by enjoying a walk in the fresh grass outside and thinking about how it feels. Is it soft? Does it tickle? Toes also like to play in the water. Splash them in a pool or your bathtub. How is the feeling of water different from the grass? Doesn't it feel GREAT? If you're feeling daring, try walking on rocks or a pebbly surface like a driveway to see how it feels. As an art project, draw an outline of your foot on a piece of paper and make your toes into something funny – animal faces, goofy expressions or just strange colors!
Try out puppet making today. If you have brown paper lunch bags at home, they make great puppets. You can also use a sock to make a cool puppet so today would be a good time to raid your parents' stash of socks who have lost their matches. To use the paper bags as puppets, drawn funny faces or animal faces on the flat bottom flap. Decorate the long part of the bag as the body of your person, animal or even monster! When you're finished decorating it, put your arm up through the long skinny part until your hand fits inside the flat bottom. To use an old sock, you can use markers or glitter glue to paint designs on one that is light colored.
You can get creative and add yarn or fake fur as hair, goggly eyes and other decorations or you can just use crayons and markers to draw on your designs. Googling "paper bag puppets" or "sock puppets" will give you lots of ideas to get you started.
Books available for checkout at your local library branch that will teach you more about puppets include Puppets and Storytime: More Than 100 Delightful Skill-Building Ideas and Activities for Early Learners, The Grolier Kidscrafts Puppet Book by Lyn Orton and An Introduction to Puppets and Puppet-making by David Currell.
Tuesday, August 4
Do you have a family scrapbook? Why not start one today? You can use an inexpensive photo album, a binder filled with colored papers or loose-leaf notepaper, a notebook or blank journal. Fill your scrapbook with photos of all the good things you do together as a family as well as found objects such as pretty leaves and flowers, as well as other miscellaneous mementos such as a wrapper from your favorite candy (wiped clean, of course!), pieces of the wrapping paper from birthday and holiday gifts and pretty or interesting images you cut from magazines. Don't forget to include the date and at least a short line telling why the item or image is important. You can also include details such as where you were when you found it. Another great idea is to include artwork and schoolwork papers from the kids. For special occasions like birthdays, holidays and the day you learned to ride a bike (for example) include more detailed thoughts from each family member involved. As you work on your scrapbook, be sure to include funny or annoying moments from your everyday life – those make great memories too! If you decide to make a scrapbook for each year, you can look back over them together as a family and enjoy the memories. Use colored pencils, markers or crayons to jazz up your writing and feel free to decorate it to your heart's content with glitter, stickers and other scrapbooking pieces.
Monday, August 3
Have you ever played the game Consequences? It's fun and easy to do for all ages! You don't need anything but paper and pens or pencils. (Adults can write the words down for young children). This game is particularly fun because it's not about winning or losing – it's all just for fun! To begin with, each person gets a blank sheet of paper. One person is picked to read out the various parts of the story everyone will be creating – they are the "Caller". As each phrase is read, everyone writes down the word they can think of for that phrase. After each word is written down, fold down the paper so that the word is hidden and pass the paper to the person sitting on your left so that each time, you will be swapping papers so everyone ends up with someone else's. Once you get to the end, everyone reads out the funny story they've ended up with! You can use any kind of theme to your story but a popular basic one to use is this sequence: 1. "A girl" (players pick a name, either made up or a famous person) 2. "Met a boy" (same as above) 3. "At/beside/in" (player picks a location) 4. "he said" 5. "she said" 6. "the consequences were" (what happened) 7. "and the world said". Another variation of this game is to play Picture Consequences. Instead of calling out phrases, the person who is the "Caller" starts by calling out "head" and the people playing draw a funny animal or person face. The paper is folded down and then passed to the next person. The "Caller" proceeds through body parts like arms, legs, feet, etc. Once everyone has drawn feet, they open the paper to see the completed picture.
July 2020 Suggested Family Activities
Friday, July 31
After a rain storm has come through and the sun is back out, head outside and look for stranded worms to rescue! Worms love the wetness that the rains bring but it's bad for them to get caught in the sun. Using your fingers or a small stick, gently scoop up the worm and move it over to the grass or a patch of dirt. Did you know worms help in your garden or flower beds because their movement through the ground provides air and space to make the soil drain water? They are also a key part if you want to make compost from the parts of fruits, vegetables, breads and other household organic waste you might have. To learn more about worms or how to compost, ask your local librarian for help finding more resources. Even though our buildings are closed, we are happy to provide help over the phone or through email.
Thursday, July 30
In order to meet the current need to social distance, the Girl Scouts have adapted existing in person Girl Scout programming for free use in your home. Current Girl Scout members can do these activities to earn badges while others interested in the organization can look at their great free activities and resources for free online. Each activity is specifically geared for Daisies (K-1st grade) through Ambassadors (Grades 11-12). They can be found at https://www.girlscouts.org/en/girl-scouts-at-home.html. This week, the group has posted a Great Space Challenge filled with lots of things to do, including links to interactive NASA activities, tips on where to find The Big Dipper and other constellations while star-gazing, coloring and activity sheets and help for how to build things from items lying around your house, just like a NASA scientist.
Remember last week when we celebrated the anniversary of the Moon Landing? Today, astronauts will launch the Perseverance Rover to Mars. To watch the countdown and launch online, visit https://mars.nasa.gov/mars2020/.
As Winnie the Pooh famously says, "Tut, tut, it looks like rain!" (If you don't know what we're talking about, watch the Disney short film Winnie the Pooh and the Honey Tree, which was later incorporated in the full-length film The Many Adventures of Winnie the Pooh.) When it rains this week, go outside and play in it, if an adult says it's safe to do so, of course. The slightly cooler temperatures that occur during a summer rain shower may just cool you off from this horrible summer heat. Stomp, jump and roll in mud puddles just like a pig – that's what they do to cool down their bodies, you know. Before the rains start, make your own rain gauge to see how much rain falls this week. It's easy to do – just find a straight, tall container like a Mason jar and mark ½ inch increments on the side using a ruler and a permanent marker such as a Sharpie. Put it somewhere in an open area so that the rain falls right into your container. You can also recycle a plastic bottle for this project but since it is more lightweight, you'll need to weigh it down with a few small rocks in the bottom. Other fun rain time activities include finding a puddle and making a dam (think about the big ones in our area) with assorted objects like sticks, pieces of wood and other items. You can even take your (waterproof) toys such as cars and trucks outside to play in the puddles. (Again, ask your parent's permission first!)
Today is Buffalo Soldiers Day. On this day, we honor the creation of the first regular Army regiments made up of African American soldiers. Formed in 1866, the Buffalo Soldiers attained near-mythical status over the years for their strength, resilience and courage. Typically stationed in the Wild West as it was being expanded during the late part of the 1800s, these soldiers protected unsettled lands as pioneers moved westward. They were the first soldiers sent in to serve during peacetime but were also noted for their dedication and commitment during the Spanish-American War and other military engagements. To learn more about the Buffalo Soldiers, visit The Buffalo Soldier Museum's website at https://www.buffalosoldiermuseum.com/.
To celebrate the lives of the Buffalo Soldiers, read more about their history and talk to your family about their sacrifices. Children can draw a picture of how they imagine life was life for the soldiers while living in the untamed Wild West.
For more resources about the Buffalo Soldiers, junior readers might enjoy The Forgotten Heroes: The Story of the Buffalo Soldiers by Clinton Cox, available at our NERL branches. Adult readers who are interested in learning more can also find informative e-book titles on Hoopla through the NERL website.
Tomorrow is National Milk Chocolate Day. Celebrate your love of all things chocolate by having or making chocolate milk, baking chocolate chip cookies, or making smores. To learn how chocolate is made, check out the e-book From Cocoa Bean to Chocolate by Robin Nelson, available on Hoopla. Young children will also enjoy the e-book Curious George Goes to the Chocolate Factory by H. A. Rey. Other fun titles available from our local libraries include Betty Bunny Loves Chocolate Cake by Michael B. Kaplan, the classic book (and movie) Charlie and the Chocolate Factory by Roald Dahl and The Chocopocalypse by Chris Callaghan.
If you would like to try to make your own chocolate play dough, here's a recipe courtesy of Beth Gorden from 123Homeschool4Me. You'll need:
1 1/2 cups flour
2 Tablespoons vegetable oil
1/2 cup cocoa powder
1 cup salt
2 cups water
2 Tablespoons cream of tartar
Help from an adult
Put all the ingredients into a medium-large saucepan. Cook it over medium-high heat, stirring it constantly, until it forms a soft ball in the middle of the pan. This should take about 5 minutes. Next, move the play dough onto wax paper and allow it to cool a few minutes. Once you can touch it safely, knead the dough a few times until it becomes smooth and glossy. For a fun sensory experience, play with it while it is still slightly warm!
For more resources about the Buffalo Soldiers, junior readers might enjoy The Forgotten Heroes: The Story of the Buffalo Soldiers by Clinton Cox, available at our NERL branches. Adult readers who are interested in learning more can also find informative e-book titles on Hoopla through the NERL website.
Make a family time capsule: Have each person in your family write down something that has happened recently that has been important to them (small children can tell their event to a grown-up to write down.)  One idea to make the activity even more meaningful could be to include a note about something that you have been grateful for during the ongoing COVID-19 pandemic.  Put everyone's thoughts, along with a special item from each person, into a box.  Store it away in a closet or under a bed until sometime in the future.  It could be as long as 5 years from now or as short as a few months.  New Year's Eve 2020 or New Year's Day 2021 would be a great day to pick for a shorter time span.  On whatever day and year you choose, gather your family together and open up your time capsule to see what your 'past self' was thinking!
Celebrate National Vanilla Ice Cream Day today and National Hot Fudge Sundae Day on Saturday by eating some of your favorite ice cream (don't worry, we won't tell if it's not vanilla)!  If you don't have any ice cream, don't worry – just draw or paint a picture of your favorite ice cream treat instead.  Tell us what combinations you like, or don't like – chocolate and lime sherbet, anyone?  If you could make up your own crazy ice cream flavors – what would they be?  If you have craft supplies available, create a picture of the tallest scoop of ice cream you can using pom poms or various sized circles in different colors to represent the ice cream flavors.   Draw or cut out from brown paper a larger triangle and then flip it with the tip pointing down for your cone.  Decorate your layers of flavors with crayons, markers, glitter, beads, sequins or anything else you have at home.
Beautiful handwriting is becoming a lost art.  Practice your best penmanship by writing a hand-written note or letter to someone.  It could to be to someone in your family to tell them how much they mean to you or you could write a note to someone in your community, such as a police officer or a fire fighter, to thank them for what they do for our community.
Preschool age children can get their fingers ready to learn how to write by moving small items from one place to another:  Place marshmallows or pieces of cereal in a bowl and give them another bowl to move them to.  The 'pinching' motion that they make when they do this activity helps get their fingers limber enough to hold a pencil.  Once they have mastered that, you can make it harder by giving them a spoon, a large tweezer or plastic tongs to move the items from one bowl to another.  Babies and toddlers can start learning how to use their hands in a similar way:  Put larger items such as balls, stuffed animals and other soft toys together in a box for them to move from one box to another.  This technique will also help work on their grasping, which is a fine motor skill. 
For older kids who are brushing up on their cursive writing, Hoopla has several e-books to help.  Titles include Man, I Hate Cursive by Jim Benton, Stacey Coolidge's Fancy-Smancy Cursive Handwriting by Barbara Esham and Creative Adventures in Cursive: Write with Glue, String, Markers, Paint and Icing by Rachelle Doorley.
Have you ever wanted to be a spy?  Would you like to learn how to write secret, invisible messages?  With an adult's help, squeeze some lemon juice into a bowl and mix in a few drops of water.  Using a cotton Q-tip dipped in the liquid, write a message on a blank sheet of white paper.  After your message has completely dried and can't be seen anymore, heat the paper by holding it close to a light bulb (again, with an adult's help.)  So how does this work?  The lemon juice is a natural substance that is made up of starches, sugars, and other components that break down and turn brown when it is heated.  Now that you've mastered invisible ink with lemon juice, experiment with other natural liquids like apple and orange juice, honey, milk or vinegar.  Record your observations on which liquid works the best and you're on your way to becoming a scientist, as well as a spy!
Today is National Moon Day!  On this day in 1969, a person first walked on the moon.  Go outside tonight and take some time to look up at the night sky.  How does the moon look tonight?  Is it full?  A crescent?  Draw a picture and send to us.  You can also ask your parents or grandparents what they remember about watching the Moon Landing when it happened.  Maybe they were around the same age as you are now.   If you were the first person to walk on the moon like Neil Armstrong, what would your first words be?  Let us know!  If you had the chance to go to the moon, would you go?  Draw a picture or write a short story about how you think it would be like on the moon. 
To learn more about Armstrong, Buzz Aldrin and Michael Collins, the astronauts involved with the first moon landing, check out the following books, all available from your local NERL branches: For children: One Giant Leap: The Story of Neil Armstrong and Rocket to the Moon, both by Don Brown, Moonshot: The Flight of Apollo 11 by Brian Flocca and First on the Moon: What it Was Like When Man Landed on the Moon by Barabara Hehner.

On Hoopla, great e-books available include I Didn't Know You Can Jump Higher on the Moon and A is for Astronaut by Clayton Anderson.
For adults:  Hidden Figures: The American Dream and the Untold Story of the Black Women Mathematicians Who Helped Win the Space Race by Margot Lee Shetterly (also available on DVD as your branches or as an e-audio on Hoopla), One Giant Leap: The Impossible Mission that Flew Us to the Moon by Charles Fishman and First on the Moon: The Apollo 11 50th Anniversary Experience by Rod Pyle.