Tune In to a Virtual Concert This Summer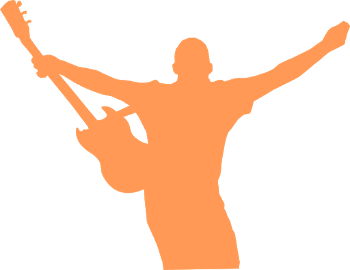 a roundup from School Library Journal
Summer is the season when music lovers usually head to festivals and outdoor concerts to enjoy live entertainment from their favorite artists and orchestras. With concert halls shuttered and performance stages closed due to the ongoing pandemic, musicians are adapting their
events and virtually sharing their tunes. Many artists, orchestras, and festivals are livestreaming concerts and recording digital music experiences to entertain their fans—wherever they may be.
While attending a virtual music event is not the same as attending in-person, there are some benefits: Tickets are usually less expensive, and many performances are free. You can also check out festivals in far-flung locales which may have been difficult to attend under usual circumstances. To elevate the user experience, a growing number of concert organizers are using technology such as special sound effects and augmented reality to create immersive 3-D experiences. Some concerts and events are livestreamed so that listeners can enjoy the experience in real time, while others are pre-recorded and can be listened to on-demand.
Kids can also get in on the action; an eclectic collection of music events designed for families and younger audiences can also be found online. Whatever your musical preferences are, there is most likely an event—or many—you can enjoy virtually this summer. We have rounded up a selection of the summer's best online music events, but this is only a small sampling, and there are many other virtual concerts and festivals out there for you to discover.
Country Music at the Grand Old Opry
Nashville's iconic Grand Old Opry House, renowned for its country music and one of the most famous music venues in the world, is streaming free, live virtual country music concerts each Saturday night from its stage. These shows can be viewed on Facebook Live and YouTube, and can also be accessed on-demand after the performance.
NYC's Metropolitan Opera
Every night, the Met streams encore presentations of operas for free on its website and through its app. It's showing a selection of stage performances from the past 14 years. The famed company also recently started a series of pay-per-view recitals streamed live, which cost $20 a concert. These concerts feature leading singers from around the world who perform via satellite at various venues.
Symphony Music from Colorado
The Colorado Symphony posts a new virtual music hour video each week that then becomes available for streaming. Each session includes an introduction from a symphony musician or conductor about the music that will be played, an audio recording of the symphony, and activities and discussion questions that can be done before and after listening.
A Digital Music Festival
The popular electronic music festival Tomorrowland will take place virtually on the last weekend in July, headlined by pop star Katy Perry. The in-person annual festival is usually held in Belgium and attracts visitors from countries around the world. The virtual iteration will take place at various locales and will include laser shows and 3-D design technology. More than 60 artists are set to perform, and tickets are required.
Chamber Music in Napa Valley
A free chamber music festival called Music in the Vineyards will take place throughout August at various wineries in Napa Valley. MITV@HOME will include a mix of prerecorded and live concerts that viewers can stream at home.
Online Festival at Tanglewood
Tanglewood, the beloved music venue in the Berkshire Mountains in Massachusetts, is offering an array of virtual music events this summer as part of the Tanglewood 2020 Online Festival. While visitors can't bring their lawn chairs to enjoy the Boston Symphony Orchestra in person, they can listen to recordings by the famed orchestra at home and enjoy the music of many other performers. Each week, the festival offers educational talks and concerts featuring well-known musicians, including Yo-Yo Ma and Joshua Bell. Some of the concerts are being performed and recorded by musicians on the Tanglewood grounds, while others take place in concert halls across the U.S. and around the world. Some of these events are free of charge, while others cost a small fee.
Hip-Hop in Portland
The city of Portland, OR, will hold its annual Hip-Hop Week in a virtual format from Aug. 20 to 26. The event includes Mic Check, a showcase for hip-hop artists.
Alternative Music in Chicago
The alternative-rock festival Lollapalooza is being held this year as a virtual event with some performances coming out of its usual home in Chicago. Scheduled to run from Jul. 30 to Aug. 2, the event, renamed Lolla2020 for this year, is set to have live events and run archival footage from previous festivals.
Jazz at the Village Vanguard
NYC's famed jazz club Village Vanguard has started a series called Streaming Live at the Village Vanguard. Each weekend the club livestreams live jazz concerts for a small charge.
For Kids
Lincoln Center Concerts
This NYC cultural institution has developed a weekly program called #concertsforkids consisting of short concerts for family audiences that can be viewed virtually, on-demand. The upbeat performances feature a variety of musical styles, including Latin, jazz, beatboxing, and hip-hop.
Family Singalongs
Grammy-nominated Boston songwriter Alastair Moock hosts weekly music concerts for families that are available on his Facebook page and can be streamed at any time.
Time for Dan Zanes
Popular kid's performer Dan Zanes is hosting a few free online livestreamed concerts for families this summer. He is set to perform with his wife Claudia, a Haitian-American jazz singer.