Summer Reading Program

SUMMER READING PROGRAM 2021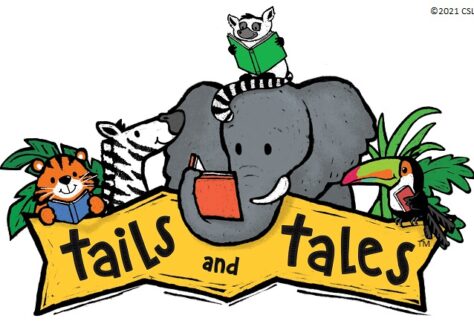 June 1 - 12 • Local Tales - Animals around your home such as pets and in nature
June 13 - 26 • Farm Tales
June 27 - July 10 • Jungle and Zoo Tales

July 11 - July 24 • Water Tales
SUMMER READING PARTICIPANT PHOTOS
This slideshow requires JavaScript.
SUMMER READING PROGRAM INFO
The branches of the Northeast Regional Library invite you to join us this summer as we explore the worlds of animals of all shapes and sizes through our 2021 Summer Reading Program – "Tails and Tales."  Summer Reading activities will run from June 1 through July 23 and will follow four main themes – "Local Tales", a celebration of all our household pets, as well as animals found in our local areas, "Farm Tales," a look at all the various animals that work and live on farms, "Jungle and Zoo Tales," an exploration of all the wild animals found in those locations and "Water Tales," an examination of all the various animals that make their homes in oceans, lakes and ponds.
Library branches are still not able to provide in person programming, so all Summer Reading Program activities will continue to take place through virtual programming, 'grab and go' activity packets, and Story Walk collaborations in partnership with local communities.  Virtual programming kicks off on June 1 with a presentation by local favorite Deb Davis, an Outreach Educator from the Mississippi Museum of Natural Science in Jackson.  Deb will tell the story of "The Heron and the Hummingbird," a new spin on the classic tale of "The Tortoise and the Hare."  Afterwards, fellow Outreach Educator Jackie Henne-Kerr will tell about each animal.  The virtual programs can be viewed through the NERL website at www.nereg.lib.ms.us.  
Additionally, various NERL staff will provide daily Story Times on the website, most of which will be recorded so that the stories can be watched at your convenience.  NERL will also continue posting daily suggestions for fun family activities that fit into our Summer Reading Program theme on the Suggested Family Activities page of the website.
Over the course of eight weeks, branches will hand out activity packets filled with coloring sheets, activity sheets, craft projects, suggested reading lists and more.  A total of four different packets will be available (each based on the above themes).  Packets will be tailored to age level and abilities, with different packets available for those 6 and under, 7 -11 and 12 and up.
NERL is very excited this year to offer something new – Story Walks!  Story Walks are outdoor reading experiences where a children's book is presented via plastic signs at various points along a walking trail.  Participants walk the trial, stopping at each sign to read the pages of the story.  We are proud to partner with our local communities and their Parks and Recreation departments to present Story Walks in the following areas: Belmont, Blue Mountain, Booneville, Burnsville, Corinth, Iuka, Ripley and Tishomingo.
In celebration of how much we love our pets, NERL invites you to submit pictures of your children (and adults too!) reading to their pets.  And if you don't have a pet right now, or if your pet is a little camera shy, don't worry!  Photos of your child reading to their favorite stuffed animal is a great idea as well.  Pictures may be sent to NERL at summerreading@nereg.lib.ms.us, where they will be put into a slideshow on the NERL website.  
To view the schedule of daily Story Times and find out more information about Story Walk locations or for questions about Summer Reading Program in general, please contact us at summerlibraryprogram@nereg.lib.ms.us, visit our website at www.nereg.lib.ms.us. or call your local library branch.
Story Times • Week 1-2 • Local Tales, Pets
Story Times • Week 3-4 • Farm Tales
Story Times • Week 5-6 • Jungle Tales
Story Times • Week 7-8 • Water Tales
Virtual Summer Reading Programs
Theme One: Debora Waz presents The Heron and the Hummingbird
This is the first guest presentation in our Virtual Summer Reading Program 2021
Theme Two: Music Play Patrol Tails and Tales Storytelling 
This is the second guest presentation in our Virtual Summer Reading Program 2021
SUGGESTED FAMILY ACTIVITES
New Suggested Family Activities
are posted here