Suggested Family Activity • Owl 🦉 Puppet Craft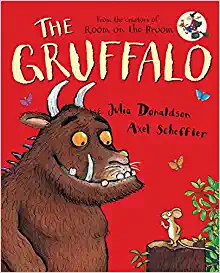 If you have brown paper bags, your kids can turn them into a cute fall owl 🦉 puppet using various colored paper.   They can stick with fall colors such as red, orange, yellow, and brown or use any other colors that strike their fancy.  If you have picked up one of the November 🦃 activity packets from one of our branches, there is a template included to make an owl, as well as a cute owl coloring 🖍 sheet.  Or you could Google similar craft projects online and let your children look at those for inspiration for how to cut ✂ their pieces.  Another idea is to draw an owl 🦉 outline and let your children cut (or tear) pieces of paper into small pieces to glue onto the outline in a mosaic style.  Adding a few small touches, such as a beak, eyes 👀, ears, and claws, will really bring it to life!
An owl 🦉 character figures prominently in Julia Donaldson's classic tale The Gruffalo, which is currently available as a StoryWalk® at the walking trail at the Mineral Springs Park Walking Trail in Iuka.  Located at 118 S. Pearl Street, this lovely, shaded trail forms the perfect setting to follow a mouse 🐭 as he tries to trick the other forest animals into thinking there is a monster nearby.  The StoryWalk® will be available in Iuka until November 14, after which it will be moved to the newly opened walking trail at the J. C. Nance Park, located at 702 North Main Street in Ripley.  Read more about StoryWalks® here.
This slideshow requires JavaScript.