Suggested Family Activity • National Mississippi Day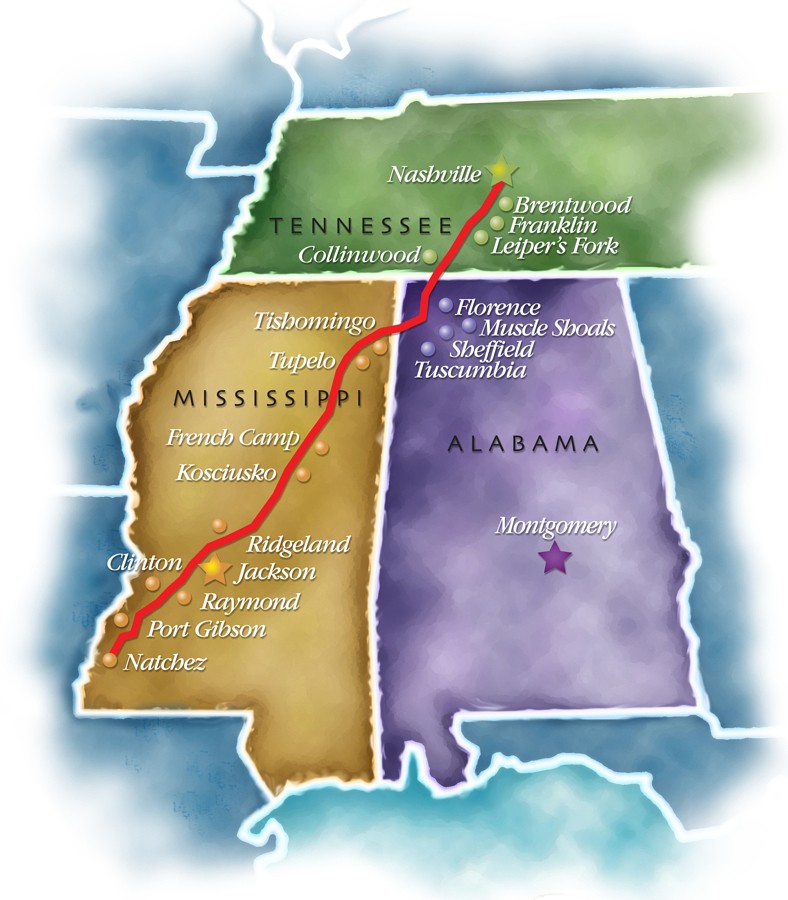 Tomorrow is National Mississippi Day – a day to recognize

the state we live in and some of the great things to be found here!  Mississippi is well known for being the home of wonderful writers, entertainers and athletes including Elvis Presley, Eudora Welty, John Grisham, Richard Wright, William Faulkner, Oprah Winfrey, Robin Roberts, LeAnn Rimes, Jerry Rice and Brett Favre, just to name a few.  How many famous Mississippians can you name?  And did you know Mississippi added another famous resident last year when Miss Mississippi Asya Branch of Booneville was named Miss USA?
Mississippi is home of the Delta blues and the birthplace of the Civil Rights Movement, which can be explored online at https://mcrm.mdah.ms.gov/.  To find out more about the Delta blues, visit their museum at https://www.deltabluesmuseum.org/.  Our state is full of beautiful scenery and natural wonders, such as those found along the 444-mile long Natchez Trace Parkway, which runs through our area.  This ancient pathway began first as a trail used by herds of bison and then was used by the hunting and gathering mound builders in the area.  Later, it would become a passageway for those transporting goods from the northern U.S. to the river town of Natchez. To learn more about the Natchez Trace, visit their website at https://www.nps.gov/natr/index.htm.
Another great treasure in our area is the Tishomingo State Park.  It was
named after Chickasaw Chief Tishomingo, one of the last surviving full-blooded Chickasaw Chiefs, who lived to be over 100 years old.  Chief Tishomingo fought on the same side as the U.S. military during military campaigns of the late 1700s and early 1800s before he and his people were removed from their land in Mississippi in the early 1830s.  Two counties, one in Mississippi and one in Oklahoma, two state parks, a town, organizations, and a beautiful bridge have been named in Chief Tishomingo's honor.  To find out more about Tishomingo State Park, visit their website at https://www.stateparks.com/tishomingo_state_park_in_mississippi.html.
If you have young children, do they know how to spell Mississippi?  If not, teach them the "M, I, crooked letter, crooked letter, I, crooked letter, crooked letter, I, humpback, humpback, I" rhyme that has been used for generations to teach children how the word is spelled.  Another fact about Mississippi is that people all over the U.S. count seconds of time by saying, "One Mississippi, two Mississippi, etc".  No one knows why – it could be just that it is a fun word to say!
We would love to see your photos!  Send pics to photos@nereg.lib.ms.us