Suggested Family Activity • Halloween 🎃 Kindness Cards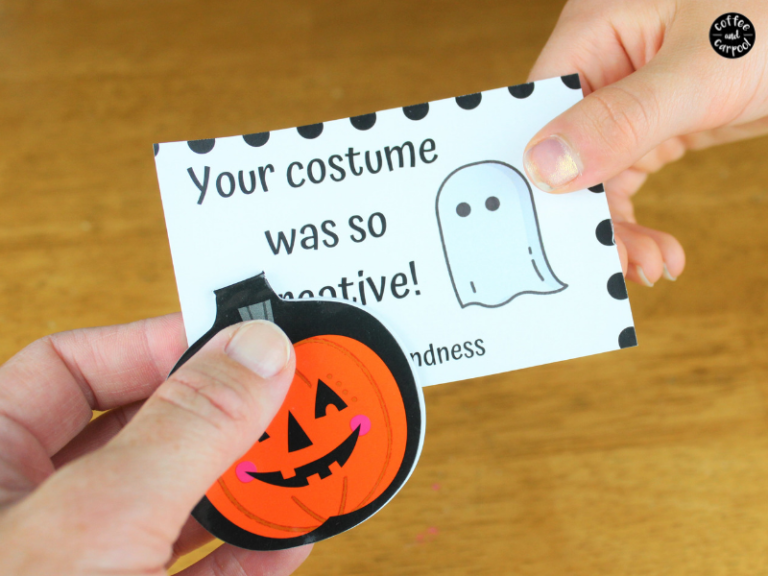 October is a time of ghosts 👻 and bats 🦇 and scary monsters 👹, but have you ever thought about spreading kindness 🙂 on Halloween, along with candy 🍫 treats?  The mom behind the website Coffee and Carpool suggests handing out Kindness Cards this year to go along with your usual selections.  What are Kindness Cards, you ask?  They are simple cards that have a positive ➕ message, such as "I love ❤ your costume" and "Hope you get lots of candy 🍬 tonight."  To view them, click here:   https://coffeeandcarpool.com/halloween-kindness-cards/.
Kindness Cards would also work well for those participating in the Teal Pumpkin 🎃 Project.  It is a national project that encourages families to also pass out non-food items (such as stickers 🏓 bubbles, erasers, ✏ small bouncing balls) to trick-or-treaters for kids who have food allergies, food sensitivities, or cannot have candy.  To find out more information about the project, click here: https://www.foodallergy.org/our-initiatives/awareness-campaigns/living-teal/teal-pumpkin-project.
It is never too early to teach children how to be kind 🙂 and to respect those who are different than they are.  Some titles available at your local library on the subject include It's Okay to be Different by Todd Parr, All for Me and None for All by Helen Lester, The Berenstain Bears Kindness Counts, Cara's Kindness by Kristi Yamaguchi, and I am Enough by Grace Byers.
This slideshow requires JavaScript.