Suggested Family Activity • Gnome Craft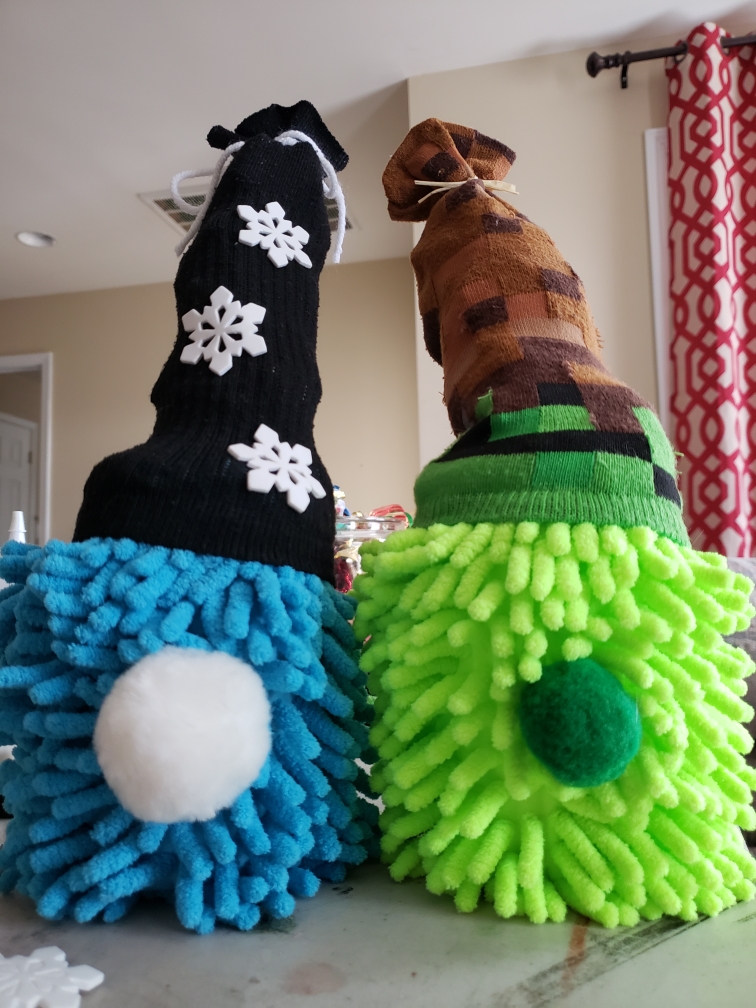 Suggested Family Activity • Gnome Craft
This slideshow requires JavaScript.
A fun craft project for people of all ages is making gnomes to sit around your house or front porch.  It does not take many supplies at all to make cute versions to fit all seasons and personal tastes.  The examples pictured below include a Snow Gnome from this past winter, a Minecraft Gnome, a Spring Gnome, and a hard-working traditional gnome ready to face a dragon!  To begin this project, decide on what you can use to form the body.  For our versions, we used recycled pickle jars and Mason jars.  (If you are worried about them being knocked over, you can fill the jars with rocks to weigh them down.)  Another option is to fill an old sock with rice or beans to make the body.
Next, decide what to use for the gnome's beard.  The ones for the Snow Gnome and Minecraft Gnome below are each made from a car polishing mitt found at local dollar stores.  If you use one of those, it is super easy to just slide it over your jar or container.  To make beards like the other two gnomes pictured below, a light-colored piece of felt was glued to the jar before gluing on beard strands made by cutting apart floor mops from the dollar store.  After your beard is in place, next comes the gnome's hat.  The Snow and Minecraft gnomes' hats are made from old socks, while the other two gnomes have hats made from more felt.  To give the hats shape, stuff them with crumpled newspaper and tie them closed with string, yarn, or ribbon.
Our gnomes' noses are made by gluing on a single pom pom but another option is to  use a wooden bead or other round objects to make a nose.  The last step is to establish your gnome however you want.  For our Snow Gnome above, we added foam snowflakes, while our Spring Gnome received bright spring flowers and a cute butterfly.  For our Dragon Gnome, we added dragon embellishments found in the sticker section of a dollar store.
We hope you let your creativity loose and have fun trying out your own gnome!  For more gnome inspiration, check out other people's versions on Google or Pinterest.  And don't forget to send us a picture of your gnomes at summerreading@nereg.lib.ms.us.