Suggested Family Activity • Fly a Kite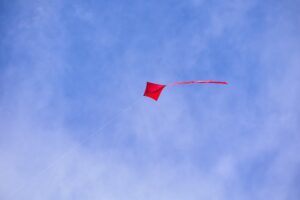 March is often prime kite flying weather. Go outside this month and let your children decide if it is windy enough to fly a kite. Have them tell you why they think it is or is not a good day to fly a kite. Some questions to help move the conversation along for little ones include: Do they feel anything on their face? Are their clothes moving around? What about any tress or bushes they can see – what are they doing? Are they still or are they moving around? In movies, people lick one of their fingers and stick it up in the air to see if it feels colder, which is an indication the wind is blowing.
If you do not have a kite at home, no need to worry! It is a fun idea to make your own. The PBS website at https://www.pbs.org/parents/crafts-and-experiments/take-flight-with-a-diy-kite has simple directions for how to make a kite using just string, sticks and paper. You can go on a walk today and look for sticks that would fit together to make the cross-shaped body and let go back home to make your kit. The PBS contributor used newspaper for their kite, but you could use other large pieces of paper instead such as tissue paper, drawing paper or brown packing paper . You could also experiment with making different sized kites, depending on what size of paper you have on hand. Whichever way you choose, let the kids have fun decorating their kite by coloring designs on the paper, painting on the newsprint and tying ribbons or streamers on the ends.
We would love to see photos of your family doing a #FamilyActivity! Email them to us at summerlibraryprogram@nereg.lib.ms.us #SFA #SuggestedFamilyActivity
See previous Family Activities on our website at https://bit.ly/3dC2vpK