National Library Week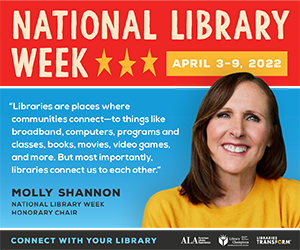 Scroll down for Virtual Story Time
WHAT: National Library Week In Mississippi
WHEN: Sunday, April 3 - Saturday, April 9, 2022
During National Library Week April 3-9,
Connect With Your Library
Join the branches of the Northeast Regional Library this week as we observe National Library Week during April 3 – 9!  National Library Week is a time set aside each year to celebrate our libraries and the many contributions that library workers make to their communities each day.  NLW is also a great time to promote the use of your local libraries and to show your support for what they do.
National Library Week is a time to highlight the essential role libraries, librarians and library workers play in transforming lives and strengthening their communities. The theme for this year's National Library Week is "Connect with Your Library," which promotes the idea that libraries are places to get connected to technology by using broadband, computers, and other resources. Libraries also offer opportunities to connect with media, programs, and ideas, in addition to books.  Most importantly, libraries also connect communities to each other.
Special NLW events this year include NLW coloring sheets to go along with spring themed activity packets for all ages, as well as daily Suggested Family Activities about books and reading on our website.  A different recorded Story Time will be available each day, with books about libraries and the love of reading being read by various NERL staff.  (See below for a list of when those will occur.)
If you find yourself wondering why anyone would need to visit a library these days, Corinth Librarian Cody Daniel has these thoughts for you:
"Isn't the library a building filled with antique books?"  Absolutely not!  Our libraries order newly available titles every month from some of the most sought-after authors and scholars.

"But what if I like digital readers instead of reading physical books?"  No problem!  NERL patrons can access a vast collection of books through the digital services Hoopla and Overdrive (using the Libby App).

"Aren't streaming services the new way to watch movies and TV shows?" Not necessarily!  Our libraries have thousands of FREE movies and shows for all ages, from Encanto to Venom, from Cobra Kai to Better Call Saul.

"But hasn't Covid stopped libraries from continuing their services?"  Nope!  The Northeast Regional Library is committed to enriching our community while being mindful of the health and safety of our patrons.  Our award-winning Suggested Family Activities and Activity Packets, as well as our Virtual Story Times, have given us a new way to serve you!   These opportunities are available in addition to the personal indoor service and computer/internet access that we have always offered.
NERL encourages all community members to visit their local library branch in person or online to explore and access services and programs. NERL offers a wide array of services and materials for educational, information, or recreational use that are available in person or from the comfort of home, including digital materials such as e-books and e-audios.  Other library services available include access to public computers, printing and copying, faxing, and helping with reference questions of all kinds.
The 2022 National Library Week Honorary Chair is comedian/writer Molly Shannon, whose mother was a librarian.  Shannon spoke of her mother as a woman who "encouraged kids to read. So, the work of librarians and libraries has such a special place in my heart."  And as any librarian can tell you, encouraging a child to read is often the first step in building a lifelong connection.
This April, we invite you to join us in discovering more (or discovering anew) the opportunities available within your public library.  First held in 1958, National Library Week is sponsored by the American Library Association (ALA) and observed in libraries across the country each April. All types of libraries – school, public, academic and special – participate.
For more information about NLW or any of the other services of the Northeast Regional Library, email us at photos@nereg.lib.ms.us.
Online Story Times will be posted here and on our homepage.
Check the schedule 📅 below for
Corinth's
Ripley's
Iuka's
Story Time!
N A T I O N A L • L I B R A R Y • W E E K • M I S S I S S I P P I • 2 0 2 2
National Library Week Proclamation from the governor