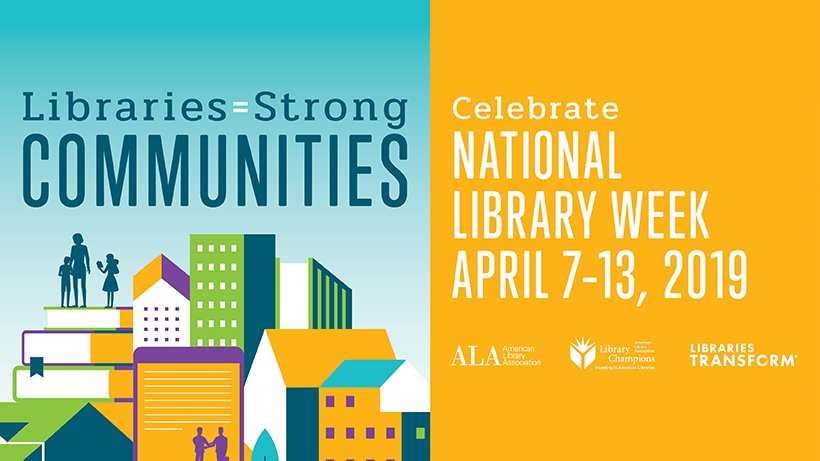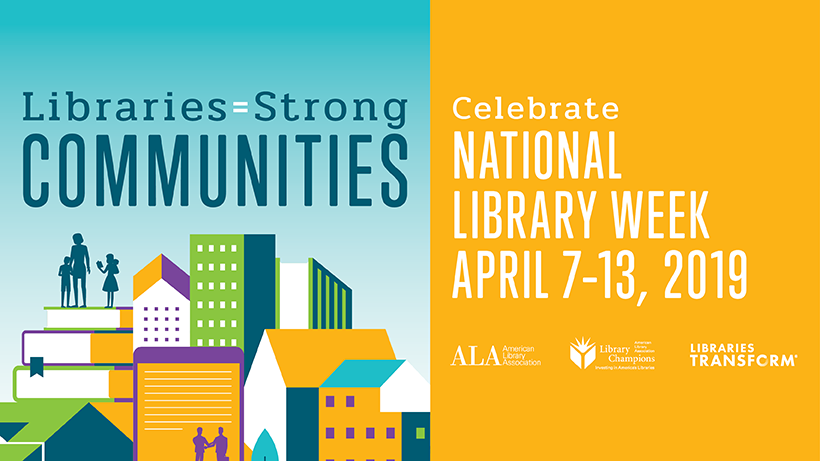 ---
Mississippi Libraries Strengthen Their Communities: Celebrate National Library Week
April 7-13
Mississippi libraries are joining libraries of all types in celebrating the many ways libraries build strong communities by providing critical resources, programs and expertise.
Join us during National Library Week, April 7-13, 2019, as we highlight the valuable role libraries, librarians and library workers play in transforming lives and communities. Libraries are at the heart of their cities, towns, schools and campuses. They provide valuable services every day as well has serving a role as public spaces where people of all backgrounds can come together and connect.
Library programs encourage community members to meet to discuss civic issues, work together using new technologies, and to learn alongside one another in classes and programs. Library staff also partner with other civic and service organizations to actively engage with the people they serve, always striving to make sure their community's core needs are being met.
Governor Phil Bryant has issued a Proclamation, declaring April 7-13 as National Library Week in Mississippi. Governor Bryant encourages all residents to "visit the library this week and explore what's new at your library and engage with your librarian."
"Libraries in Mississippi are the cornerstones of democracy, promoting the free exchange of information and ideas for all," said David Brown, Chair of the Mississippi Library Association's National Library Week committee. "They also foster civic engagement by keeping people informed and aware of community events and issues."
NERL Director Dee Hare agrees.  "Each and every day, our public libraries offer our communities much needed free services such as free public access computers and wireless connections, books and movies that are available to be checked out at no charge and informational programs that help you learn new skills as well as provide entertainment for the whole family," she says.
Special National Library Week programs from the Northeast Regional Library system include a Resume Building workshop and Movie Night at the George E. Allen library in Booneville and a Water Safety program presented by the U. S. Army Corps of Engineers at the Corinth library.  Several library branches, including the ones at Baldwyn, Burnsville and Corinth are planning visits from Community Helpers in their area, including members of local police departments, fire departments and emergency medical technicians.  These community members will be telling about their valuable work as well as bringing their interesting work vehicles for children to see.  Additionally, the Burnsville library will present programs by representatives from the U. S. Postal Service and the First American National Bank.
Special children's story times this week include a Groovy Pete the Cat Story Time at the Booneville library, an Easter Egg Hunt and Story Hour at the Baldwyn library, both a Craft Story Time and a Sensory Friendly Story Time at the Corinth Library and a Stuffed Animal Story Time and Sleepover at the Iuka Library.  For this special event, children are encouraged to bring their fluffy stuffed friends with them to Story Time and then leave their stuffed friends to spend the night.  Beginning at 11:00 the next day, children will be able to pick up their stuffed friends and receive a photo showing what their little friends got up to during the night at the library.
Several library branches will sponsor Open Houses with refreshments in a variety of forms and many will be giving away door prizes throughout the week.  The Iuka Library will have two – one for current and former library staff and volunteers and one for everyone in their community who helps to keep the library running.  In addition, many of the Friends of the Library groups associated with each branch will be sponsoring special book sales during this week.
And remember, as always, all library programs are free and open to the public.
In honor of this year's NLW theme, Libraries = Strong Communities, many of our library staff will be going outside their library doors on Listening Tours in order to make contacts with members of their communities by visiting various places around town.  They will be visiting local nursing homes, schools, city and county offices and police and fire departments to introduce themselves to their communities.
To find out what's happening at all of our branches, check out our full listing of daily activities below.
Daily Activities are listed below
First sponsored in 1958, National Library Week is a national observance sponsored by the American Library Association (ALA) and libraries across the country each April.
---
ALL WEEK EVENTS
WHEN

WHERE

WHAT

All Week April 8-13

Booneville  Library

The Art of Audri Garvin on display, recipient of the North MS Art Association Scholarship and 2nd year art major at NEMCC

Enter daily for door prizes to be given away on Monday, April 15 at 9:00 a.m.

All Week April 8-13

Iuka Library

Art exhibit featuring works by local artists
---
Monday, April 8
WHEN

WHERE

WHAT

All day

Booneville Library

Free

Book Bags while supplies last

All day

Burnsville Library

Giveaways throughout the day

All day

Iuka Library

Enter for a raffle to win an oil painting by certified Bob Ross Instructor Deanna Washington Gregory.  Winner will be drawn at 6:00 p.m.

10 – 4

Burnsville Library

Storytimes throughout the day with volunteer Ginny Breon

10 – 5

Tishomingo Library

Friends of the Library Children's Book Sale

11 – 1

Belmont Library

Patron Appreciation Day with refreshments

2 – 4

Booneville Library

Resume Building with Tammie Hardin, retired Human Resources manager

2 – 5

Baldwyn Library

First Responders = Strong Communities

Visits from representatives from the Police Dept., Fire Dept. and EMT Services with their work vehicles

2 – 5

Booneville Library

Meet the Artist with Audri Garvin
---
Tuesday, April 9
| | | |
| --- | --- | --- |
| WHEN | WHERE | WHAT |
| All day | Iuka Library | Library Worker's Appreciation Day:  All current and former library staff and volunteers are invited to drop by for refreshments and reminiscing with photographs, scrapbooks and other memorabilia. |
| 12 – 5 | Blue Mountain Library | Patron Appreciation Day with coffee & donuts |
| 1 – 2 | Burnsville Library | Jennifer South will demonstrate how to use library resources to turn a hobby into a home-based business. Jennifer will also provide samples of her own home baked goods. |
| 2:00 | Corinth Library | Visit by Corinth Police Department with their patrol cars |
| 4:00 | Booneville Library | GROOVY Pete the Cat Storytime |
---
Wednesday, April 10
| | | |
| --- | --- | --- |
| WHEN | WHERE | WHAT |
| All day | Ripley & Walnut Libraries | Computer and Information Services Day – Visitors to the Walnut library will see a demonstration of new services at the library such as ABC Mouse and wireless printing, view newly arrived LSTA materials and have a discussion about the upcoming library software change. |
| 10 – 11 am | Burnsville Library | Visit by a volunteer fireman with his firetruck |
| 10 – 5 | Tishomingo Library | Friends of the Library Children's Book Sale |
| 2 – 4 | Booneville Library | A look into the George E. Allen collection and history of the library |
| 2:00 | Corinth Library |  Water Safety Program with the U. S. Army Corps of Engineers |
---
Thursday, April 11
| | | |
| --- | --- | --- |
| WHEN | WHERE | WHAT |
| All day | Iuka & Ripley Libraries | Partner Appreciation Day:  Complimentary coffee and Ripley snacks to everyone in town who keeps things running smoothly at the library – City Hall, TCEPA and public works  employees, members of the Board of Aldermen and County Board of Supervisors, postal carriers, those in law enforcement and the fire service as well as all volunteers and members of the communities' clubs and civic groups. |
| 10:00 am | Booneville Library | Craft demonstrations with Librarian Leigh  |
| 10:00 am | Corinth Library | Pre-School Storytime and Crafts with Teresa  |
| 1:30 – 2:30 | Burnsville Library | U.S. Postal Worker Rhonda Hickox will talk about the various services the USPS offers plus additional giveaways from the library |
| 2:00 | Booneville Library | Craft demonstrations with Librarian Leigh Hood |
| 2:00 | Corinth Library | Read Aloud with the Librarian – Cody Daniel will read aloud a classic story.  This program is aimed at an adult audience. |
| 4:00 | Booneville Library | Craft demonstrations with Librarian Leigh Hood |
---
Friday, April 12
| | | |
| --- | --- | --- |
| WHEN | WHERE | WHAT |
| All day | Ripley & Walnut Libraries | Adult Readers Day – Listening sessions for patrons to talk about what authors they would like to see more of in the library, other services they would like to see at their library and an explanation of how Inter-Library Loans work |
| 9:00 – 2:00 | Iuka Library | Friends of the Library Spring Yard Sale |
| 10:00 – 5:00 | Tishomingo Library | Friends of the Library Children's Book Sale Patron Appreciation Day with refreshments |
| 12:00 | Booneville Library | Friends of the Library Lunch Break with optional $3 bag lunch |
| 12:00 – 1:00 | Burnsville Library | Lender/Community Bank Manager Brenda Kennedy from the First American National Bank at Burnsville will present a program giving credit tips.  A free lunch will be provided by the bank but an RSVP is requested so that enough food will be available.  In addition, the library will be giving away more door prizes. |
| 2:00 | Corinth Library | Sensory Friendly Storytime |
| 5:00 | Booneville Library | |
| 5:00 | Iuka Library | Stuffed Animal Story Time and Sleepover:  Bring your fluffy stuffed friends to a private Storytime, then let them sleep over at the library! |
---
Saturday, April 13
| | | |
| --- | --- | --- |
| WHEN | WHERE | WHAT |
| All day | Ripley Library | Heritage and Genealogical Services Day – Items from the Tommy Covington Genealogical Room will be highlighted as patrons are shown how to trace both their family's own histories and as well as their communities' past |
| 9:00 – 2:00 | Iuka Library | Friends of the Library Spring Yard Sale |
| 10:00 – 1:00 | Tishomingo Library | Friends of the Library Children's Book Sale |
| 11:00 – close | Iuka Library | |