October Librarian Spotlight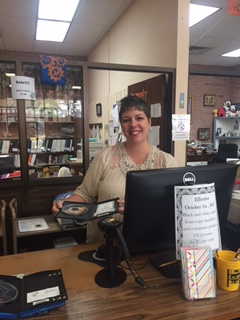 October Librarian Spotlight
Meet George E. Allen Library, Booneville
Assistant Librarian
Sandy Donahue
If you visited the George E. Allen Library in Booneville over the summer and thought you spotted a familiar face – you're right! Sandy Donahue, a former morning staff member at the library, recently rejoined the staff as the Assistant Librarian.
Sandy has worked with children in several different capacities for 12 ½ years and is thrilled to be back working at the George E. Allen library. "There is so much for me to learn at this job and I'm enjoying the opportunity to do that", she says. "I am learning things about our town, as well as the ins and outs of library life. And I am a people person so I get to meet new people all the time. My favorite thing about the job so far is when I get to call someone and tell them a book they have been waiting on is in. I get as excited as they do!"
Sandy is an avid reader, of course, and loves all types of books. She reads anything from paranormal fiction to biographies and everything in between. Growing up, she especially loved Amelia Bedelia stories. "If I work too long in the children's books," Sandy says, "it usually means I'm doing as much reading as working!"
A native of Tishomingo, Sandy is married to Ronnie Donahue of Booneville. She has two sons, Dalton; a freshman at NEMCC and Conner; a junior in high school, as well as two step-sons, Brandon and Briceson. Sandy also has five beautiful grandchildren.
In her spare time, Sandy enjoys spending time with her family and cooking for them. She is very active in her church and enjoys watching her husband play softball on the weekends.