Iuka Library: National Library Week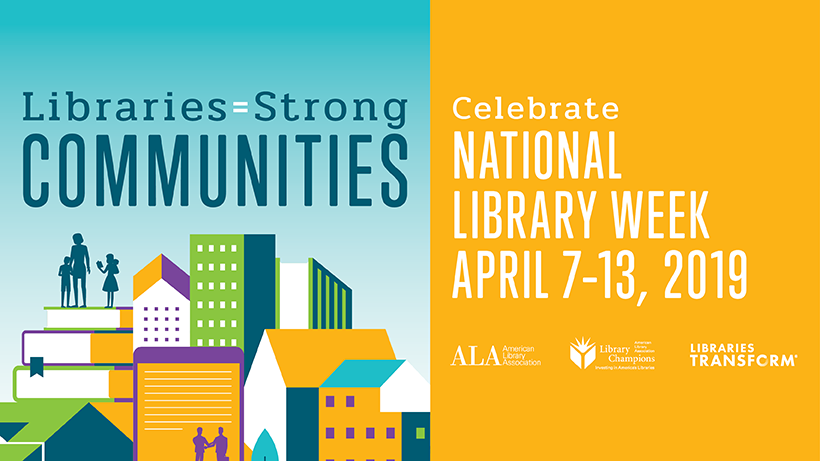 National Library Week • April 7 -13, 2019
Join us for fun activities all week long!
Monday, April 8 ONLY: FREE RAFFLE! Come by the Iuka Library and get a FREE entry form.  Somebody will win an oil painting by Deanna Washington Gregory, certified Bob Ross Instructor©.  Winner will be drawn at 6 pm Monday night.
Tuesday, April 9: LIBRARY WORKERS' APPRECIATION DAY:  All current and former staff and volunteers are invited to drop in and enjoy complimentary refreshments, from 10:00 am – 5:30 pm.  Come and be appreciated for all you do!
Wednesday April 10: Timber Hills Day Services will be the Guests of Honor for the annual Bingo Bash at the Library.
Thursday, April 11: PARTNER APPRECIATION DAY: Complimentary coffee and snacks will be served to the many people who keep things running at the library.  Drop in anytime on Thursday if you are: City Hall employees, public works, Aldermen and County Supervisors, postal carriers, law enforcement, fire services, even the TCEPA workers who keep the power on!  Also invited are members of clubs and civic groups that support the library with volunteers or donations/
Friday, April 12: STUFFED ANIMAL STORY TIME AND SLEEPOVER:  Bring your fluffy stuffed friend to private Storytime at the library at 5:00 pm then let them sleep over!  Human friends can share Storytime too, but ONLY the stuffed animals get to spend the night in the library.  Children can pick up their animals on Saturday, any time after 11:00 am., along with a photo showing what their little friends got up to during the Sleepover!  Children of all ages and abilities are invited to be a part of the event.
Come visit us anytime during the week to enjoy the work of local artists that will be on display all month.  Come experience your library during National Library Week.