Five Family Favorites With Alyssa Satin Capucilli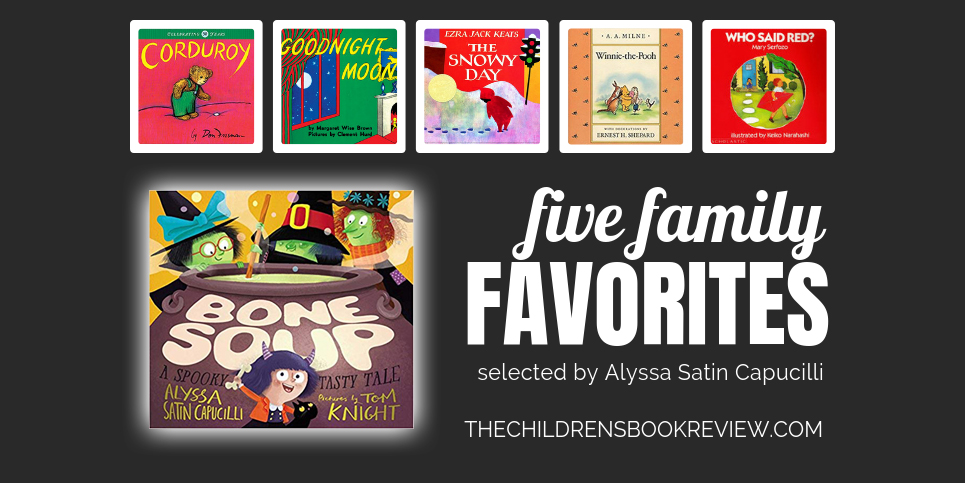 Five Family Favorites With Alyssa Satin Capucilli, Author Of Bone Soup: A Spooky, Tasty Tale
Alyssa Satin Capucilli | The Children's Book Review | October 19, 2018
Several years ago, we moved to a new house. Although my fully-grown children were happy to help us get settled, there was nothing quite like the hours we spent joyfully unpacking, uncovering, and reminiscing as we pored through box after box of their childhood favorites. Each title transported us back to a magical and precious time, flooding us with the sweetest of memories. Here are five, with apologies to the many, many, many not included!
The Snowy Day

Written and Illustrated by Ezra Jack Keats
The undeniable magic of snow is exquisitely captured as Peter joyfully explores the snowfall in the city. Our winter go-to book, we joined Peter in making footprints, angels, climbing mountains, and of course, tucking a snowball to save in our pockets.
Ages 2+ | Publisher: Puffin Books | 1976 (Reprint) | ISBN-13: 978-0140501827
---
Goodnight Moon
Written by Margaret Wise Brown
Illustrated by Clement Hurd
I can still hear my children "reading"In the great green roomto themselves, to their dolls, to each other. I think we could all recite this one from cover to cover.
Ages 1 and up | Publisher: Harper Festival | Jan. 23, 2007 | ISBN-13: 978-0694003617
---
Who Said Red?
Written by Mary Serfozo
Illustrated by Keiko Narahashi
A poem for two voices, this is a lyrical exploration of colors told in lilting verse. Read, read, read, taped, taped, taped, and re-read some more, a favorite.
Ages 2-4 | Publisher: Margaret K. McElderry | 1988 | ISBN-13: 978-0689504556
---
Corduroy
Written and Illustrated by Don Freeman
Not only a beautiful story of friendship and the comfort of home, this is a tender treatment of accepting someone, as they are. When Lisa affixes Corduroy's lost button, she notes, "I like you the way you are, but you'll be more comfortable with your shoulder strap fastened." A heartfelt testament to empathy and compassion for others, I know this story has resonated in countless ways in our family.
Ages 2-4 | Publisher: Viking Books for Young Readers | 1968 | ISBN-13: 978-0670241330
---
Winnie-The-Pooh
Written by A.A. Milne
Illustrated by E.H. Shepard
What's more wonderful than entering the Hundred Acre Wood time and time again? The perfect read-aloud, there were moments when we laughed until we cried as we searched for Heffalumps, Eeyore's tail, and gooey jars of Hunny. To this day, we still affectionately call each other "Roo" as a term of endearment. I think we loved this one so much because we discovered that there was a bit of each character—curious, wise, unsure, sometimes forlorn, brave, imaginative, in each of us.
Ages 6-10 | Publisher: Dutton Books for Young Readers | 1988 | ISBN-13: 978-0525444435
---
Bone Soup: A Spooky, Tasty Tale
Written by Alyssa Satin Capucilli
Illustrated by Tom Knight
Publisher's Synopsis: Three little witches and a bunch of spooky characters come together to prepare a delicious batch of Bone Soup in this Halloween tale based on the beloved fable, Stone Soup. This just-scary-enough picture book comes with a recipe for Bone Soup—perfect for Halloween eating.
Trick-or-treat? Trick-or-treat!
We've something usually good to eat!
One Halloween morning three witches are looking for a tasty treat and they find only a small bone in their cupboard. So they decide to go from door to door in their village to find just the right ingredients for their Bone Soup. No one in the village is convinced that soup can be made from a bone, until the littlest monster reveals just what the special ingredient should be.
Ages 4-8 | Publisher: Simon & Schuster/Paula Wiseman Books | July 24, 2018 |ISBN-13: 978-1481486088