Family Activities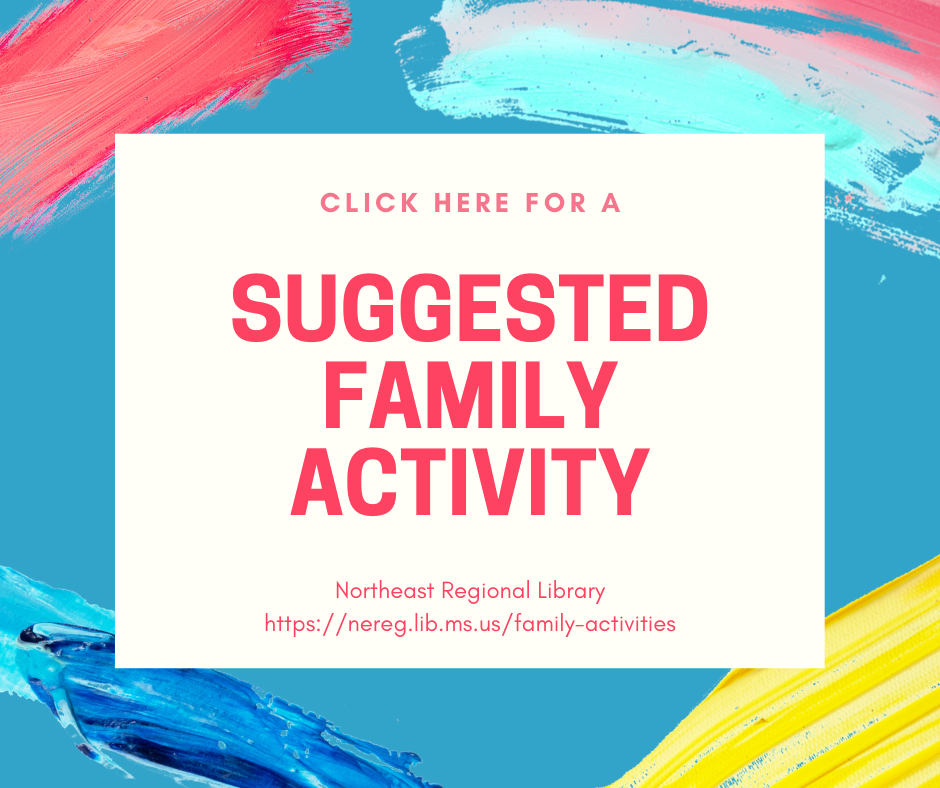 SUGGESTED FAMILY ACTIVITIES
Check back each day for fun and creative ideas for things for your family to do at home.
As with our Summer Reading Program activities, we would love to see pictures of your completed artwork, craft projects, or how your family has completed each activity. And with the parent's permission, we will post your pictures on our Northeast Regional Library website and social media.
If you have any suggestions or comments on the types of activities you would like to see, please let us know!
Send pictures and comments to summerlibraryprogram@nereg.lib.ms.us
Suggested Family Activities December 2021
November 2021 Suggested Family Activities
October 2021 Suggested Family Activities
September 2021 Suggested Family Activities
August 2021 Suggested Family Activities
July 2021 Suggested Family Activities: Summer Reading Edition
June 2021 Suggested Family Activities: Summer Reading Edition
May 2021 Suggested Family Activities
April 2021 Suggested Family Activities
March 2021 Suggested Family Activities
Suggested Family Activity • National Crayon Day!
Today is National Crayon Day, so celebrate by opening up a box of crayons and getting ready to have hours of fun! Coloring together is a great family activity for all ages. Coloring lets you express your creativity and explore the worlds in your imagination. It is a very relaxing pastime – some people find it so relaxing that they say it is like meditating. You and your family can color on pre-printed coloring pages or just grab a blank piece of paper and let your imagination run wild.
If you are looking for fun pages to color that are free, do not forget the branches of Northeast Regional Library are handing out coloring sheets each month. In addition to standard children's themed coloring sheets, branches have a selection of sheets with more intricate and detailed designs for teens and adults who enjoy the new adult coloring craze. Send us a photo of your crayon creations today – we would love to see them!
To get your children inspired to use their crayons, check out Drew Daywalt's hilarious picture book titles The Day the Crayons Quit and The Day the Crayons Came Home. Do you have a favorite crayon color? Let us know your favorite color today on social media or share your own special crayon memory. We would love to hear from you!
This slideshow requires JavaScript.
We have a laminated book bag from children's book company Bound to Stay Bound that we are giving away to the first family who sends us a photo of their crayon creations to summerreading@nereg.lib.ms.us.  The book bag has illustrations from Daywalt's crayon books and is the perfect size to hold all your library books!
Suggested Family Activity • Brave Women
Even though March is drawing to a close, there is still time to celebrate, honor and learn more about the brave women from our past as part of National Women's History month.  Northeast Regional Library system branch libraries have recently received several new additions to their collection that highlight women's contributions to World War II.  A Woman of No Importance: The Untold Story of the American Spy who Helped Win World War II by Sonia Purnell is a look into the life of Virginia Hall, a young American woman who became the first woman to deploy to occupied France.  There, she helped gather a network of spies to blow up bridges, report on German troop movements, arrange supply drops for other Resistance agents, and recruit and train guerilla fighters.  999: The Extraordinary Young Women of the First Official Transport to Auschwitz by Heather Dune Macadam tells the almost forgotten story of a thousand young, unmarried Jewish women who left their homes thinking they were being sent to work in a factory for the war effort but were sent to Auschwitz instead.
A Game of Birds and Wolves: The Ingenious Young Women whose Secret Board Game Helped Win World War II by Simon Parkin examines the true story of a group of young British women who helped come up with a strategy to outmaneuver Nazi U-boats. Code Girls: The Untold Story of the American Women Code Breakers of World War II by Liza Mundy is written for a young adult audience.  It describes a group of 10,000 American women who moved to Washington to learn the tedious job of breaking enemy military codes.  Because they were ordered never to reveal the details of their work, these women had almost been forgotten until now.
Fans of the book and movie Hidden Figures will want to check out Counting on Katherine by Helaine Becker.  Written for a juvenile audience, this biography tells the life story of Katherine Johnson, a mathematical genius who worked for NASA and was entrusted with making sure the Apollo 13 mission returned safely.