Family Activities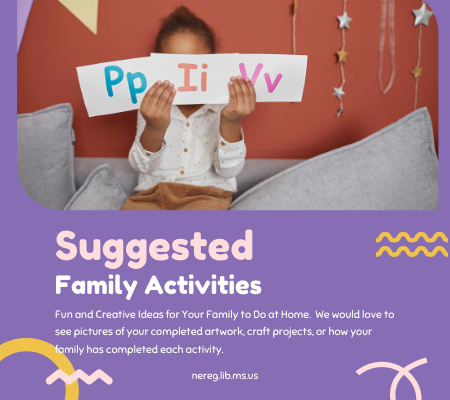 Suggested Family Activities
Fun and Creative Ideas for Your Family to Do at Home.
New Suggested Family Activities are posted on most Mondays, Wednesdays, and Fridays
As with our Summer Reading Program activities, we would love to see pictures of your completed artwork, craft projects, or how your family has completed each activity.  And with the parent's permission, we will share your pictures on our Northeast Regional Library website and social media.  If you have any suggestions or comments on the types of activities you would like to see, please let us know!
Send your pictures, ideas, and comments to photos@nereg.lib.ms.us
🏆 2021 Jane Smith Literacy Award Winner
🏆 2021

Library of Congress Award Winner
Suggested Family Activity 💧🎈 National Water Balloon Day
Today is National Water Balloon Day so take some time today to beat the heat with a little water balloon fun.  Water balloons can be found inexpensively at many dollar stores.  Or if you want to save time filling each one, you can try one of the products that fills a lot of balloons in seconds.  Regardless of which method you pick, make sure to have coolers or buckets to put them in.  Playing with water balloons is not only fun, but also a great way to get some exercise.  If you have your water balloon fun in the late afternoon or early evening, it also helps children burn off some of their excess energy before settling down for the evening.  And if you don't have enough members of your own family interested in getting wet, invite some of your neighbors over for some water fun.
There are many ways you can play with water balloons.  You can have a classic family water balloon fight or look for inventive ways to incorporate water balloons into outdoor challenges, obstacle courses, and more. You could try a water balloon toss, where everyone pairs up and takes turns tossing water balloons to each other.  The team that has the most intact water balloons in their container at the end wins.  Or you can put on some music and play a version of Hot Potato, where everyone stands in the circle, passing the balloon around while music plays. When the music stops, whoever has the balloon must pop it over their head and is eliminated. You can also try relay races, either individually or in pairs.  One fun version to try with water balloons is Under the Chin.  Place a balloon under a racer's chin and have them race to the goal line and back to the starting line.  If you have enough people to team up in pairs, they then can try to pass the balloon to the next racer using only their chins.
Send us photos at photos@nereg.lib.ms.us.
Suggested Family Activity • Early Literacy + Magic Wand

Pointer
To help young children learn how to follow along when they are reading a story, let them make magic wand reading pointers today.  To begin, you will need something to be the handle of the wand.  You can use a small dowel rod, a chopstick, a wooden skewer, or even a pencil or stick from outside.  For very young children, you can use a popsicle stick or craft stick to give them something wider to hold.  Next, get out your pom poms, stickers, feathers – anything they can glue to one end of their stick.  After it is completed, let them use it to follow along with the words while you are reading a story to them.  Or you can ask questions about the text while you are reading, such as "Can you find the red hat?" and let them point to the answer.
You could also give your child their own book as a Back-to-School treat.  Or check out these new Back to School picture book titles that have just arrived for our collection: A Letter to My Teacher by Deborah Hopkinson and Nancy Carpenter, Persuading Miss Doover by Robin Pulver and Stephanie Roth Sisson, Clark the Shark by Bruce Hale and Guy Francis, Click, Clack, Quack to School! by Doreen Cronin and Betsy Lewin, and Ginny Louise and the School Field Day by Tammi Sauer and Lynn Muntinger.  
NERL branches are giving away wide ruled paper sheets this month (some with just lines and some with an empty space on top for children to draw a picture) to help children just learning how to hold a crayon or pencil.  As a first step, parents and caregivers can lightly draw straight and curving lines for children to trace over with their crayon or pencil.  As children master that skill, they can practice drawing shapes such as circles, squares, and triangles before starting numbers and the letters of the alphabet.  Stop by a NERL branch today to pick up your paper!
And don't forget to send us photos of your child practicing at photos@nereg.lib.ms.us.
Suggested Family Activity ✏ School Supplies
Picking out new school supplies is a fun perk this time of year.  As children begin to head back to school, don't let those not old enough to attend miss all the fun.  Pull out all your home school and craft supplies, such as crayons, stickers, paper, pencils, etc. and let them go school supply shopping too by picking out supplies to be 'theirs'.  If they already have a backpack that is their own, they can put their supplies inside.  Or you can give them a plain gift bag or recycled paper bag to decorate to hold their 'school supplies.'  Dollar stores are heavily stocked with inexpensive school supplies as well.  Taking your toddler to one to let them pick out 2-3 things can be a fun, yet inexpensive, treat.
To help get your young ones ready for school when they are old enough, make sure to read to them every day.  Everyone in the family can participate.  Older siblings can practice their own reading skills by reading to their younger brothers and sisters.  Grandparents also LOVE to read stories to their grandchildren.  Family members who your child doesn't see regularly (or parents who must work night shifts) can record themselves reading a story so they can participate too.  And don't forget NERL's recorded Story Times on our You Tube channel, click here.
Check back on Wednesday for more early literacy tips, a sneak peak at new Back to School picture books coming to NERL branches, and news about a special giveaway! 
Share your photos with us at photos@nereg.lib.ms.us