Family Activities 2021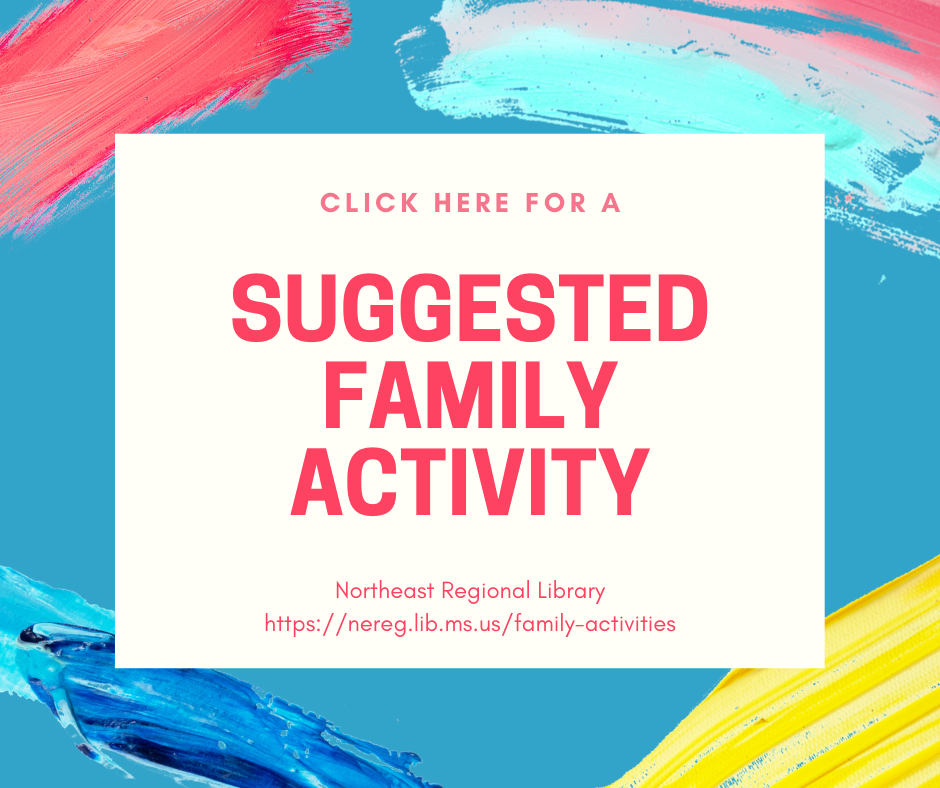 SUGGESTED FAMILY ACTIVITIES
Check back each day for fun and creative ideas for things for your family to do at home.
As with our Summer Reading Program activities, we would love to see pictures of your completed artwork, craft projects, or how your family has completed each activity. And with the parent's permission, we will post your pictures on our Northeast Regional Library website and social media.
If you have any suggestions or comments on the types of activities you would like to see, please let us know!
Send pictures and comments to summerlibraryprogram@nereg.lib.ms.us
Suggested Family Activities January 2022
Suggested Family Activity • ♥ Thinking of You Cards
If you didn't get around to sending out holiday cards, don't worry!  New Year's cards are an option for those who have too many holiday activities to get everything they want done.  Sending out a quick note to say "Thinking of You" or even a long letter getting your friends and family caught up on what your family has been up to this past year is a great way to spend the first few days of the new year.  And since getting a 'real' letter in the mail is such a rare thing these days, your thoughtful gesture could make someone's day. 
To dress up your cards or letters, the U. S. Postal Service has debuted a new Forever stamp featuring Ezra Jack Keats iconic book The Snowy Day.  Four different designs are in the set, each picturing Peter in one of his scenes from the book.  To see how the stamps look and check out the opening celebration, which was held at the Brooklyn Public Library, check out the Ezra Jack Keats Foundation website at https://www.ezra-jack-keats.org/the-snowy-day-forever-stamp/.
Share your photos with us at photos@nereg.lib.ms.us
Suggested Family Activities December 2021
November 2021 Suggested Family Activities
October 2021 Suggested Family Activities
September 2021 Suggested Family Activities
August 2021 Suggested Family Activities
July 2021 Suggested Family Activities: Summer Reading Edition
June 2021 Suggested Family Activities: Summer Reading Edition
May 2021 Suggested Family Activities
April 2021 Suggested Family Activities
March 2021 Suggested Family Activities
February 2021 Suggested Family Activities
January 2021 Suggested Family Activities
December 2020 Suggested Family Activities