A Secret Elvis Presley Property Has Surfaced in Mississippi—and It's for Sale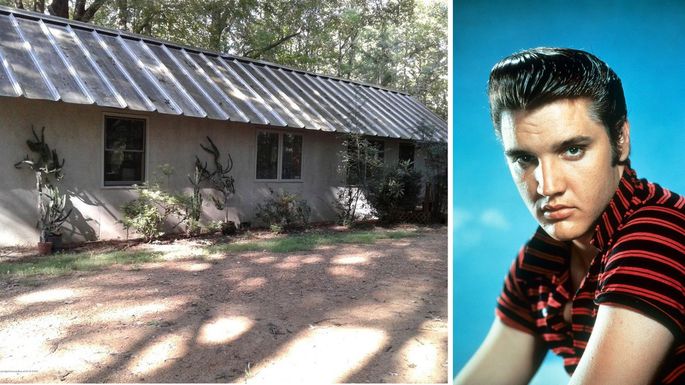 A Secret Elvis Presley Property Has Surfaced in Mississippi—and It's for Sale
He was "the King" of rock 'n' roll, but Elvis Presley also loved land. The late legend's prized mansion, Graceland, sits on over 13 acres of land in Memphis, TN. Living surrounded by nature was his reprieve from a life of fame, and he often retreated to the woods to reconnect and relax.
"The King" was also well-known for taking care of his family, friends, and fellow musicians. He purchased a farm for his father and often helped family members and close friends with jobs, property, or money. Although his generosity was often quiet, he's one of the most well-researched rock stars ever to have walked the Earth. That would typically mean that no scrap of information about the properties he purchased would have been left uncovered.
Until now.
It has recently been discovered that a large plot of land in Coldwater, MS,was probably purchased by the rock legend back in the mid-1960s. Now, the property with that Presley legacy is on the market for $485,000.
The listing agent Brandie Todd told us she had a hunch that the property was more than it appeared to be when she started examining the deed and documents associated with the 33-acre parcel.
"It occurred to me that this piece of land might have belonged to the Presley family in some way," she says.
To confirm her suspicions, she contacted Stephen Shutts, a rock music historian and expert on Elvis Presley. After looking at the documents and conducting his own research, Shutts was able to confirm what Todd had believed might be true: The property did indeed belong to the Presley family.
Shutts, the owner of a rock 'n' roll memorabilia shop called Rockology, has long studied Presley and said that he had imagined that he was aware of every piece of property the King had ever purchased.
"There are a few of us diehards that know Elvis inside and out," says Shutts. "And nobody knew about this one. Nobody."
In 1965, the Mississippi land was purchased under the name Vernon E. Presley, Elvis' father. Vernon then signed a quitclaim deed to transfer the land to Johnnie and Lois Smith, the brother and sister-in-law of Gladys Presley, Elvis' mother.
"What happened was that Johnnie probably needed money, so Vernon went to Elvis to ask about purchasing the property, and Elvis likely said it was fine," says Shutts.
So, you might be thinking, the Elvis connection to this Mississippi land is tenuous. In a way, you're right. The paperwork showed the property belonged to his uncle. But Elvis was associated with the land in more than one way.
"The property was purchased in Vernon's name and then given to Johnnie, true," said Shutts. "It wouldn't have been put in Elvis' name because of business reasons—or potentially, tax or financial reasons as well. But it was Elvis who purchased the property. It was his money that was used."
The land remained in the extended Presley family for some time. In 1972, the Smiths sold the property to a man named William M. McGregor, a name that should strike a chord with Elvis aficionados.
"Fans will know (McGregor) as Mike," Shutts said. "He was a ranch hand at the Circle G Ranch [a ranch once owned by Elvis] in Mississippi. He then went to work at Graceland, after that property was sold." McGregor also made leather goods and jewelry for Elvis.
The property isn't currently owned by anyone in the Presley circle, but it comes with a rich rock 'n' roll pedigree.
On the property, there's a two-bedroom, two-bathroom home, a barn, and a workshop wired and ready to go.
It's a great place for all manner of outdoor activities, according to Todd. From hunting to riding ATVs, there's space for everything. There's also a mysterious, blue-and-white 1955 Buick, peppered with bullet holes.
"The rumor is that Elvis used to come out to the property and shoot at the car," Todd said. "He had a thing for shooting."
However, Shutts shot that rumor down. He said it's unlikely that Elvis ever laid eyes on the car.
"The car probably belonged to Gladys' family. Elvis was known for giving away cars, but he gave away new ones. He came into money around 1957, and this car is a '55. He wouldn't have given a used car to someone."
---