10 Books to Read Aloud With Your Kids for National Family Literacy Day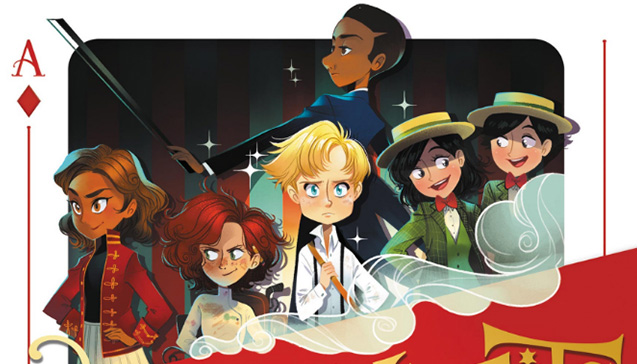 10 Books to Read Aloud With Your Kids (at Every Age and Stage!) for National Family Literacy Day

Happy National Family Literacy Day! What's that, you say?
National Family Literacy Day honors the idea of reading together as a family. One of the best ways to do this is to read aloud. Reading aloud encourages family bonding and bookishness and, most importantly, it's fun.
But where should you start? B&N Kids has gathered ten titles that will make reading aloud together extra special for kids of every age and stage—from tots to teens—and for parents, too.
PICTURE BOOKS:
Picture books are perfect to read aloud to kids who are under the age of six. There are loads of incredible options available, and everybody has their favorites to recommend, but you can start your read aloud experience with these two, which guarantee laughs for your toddler, and a few for mom and dad, too.
Goldilocks and the Three Dinosaurs, by Mo Willems

One day, three dinosaurs decide to make a perfect meal, in a perfectly clean house, and wander away, for absolutely no reason at all. Certainly not to lure in a unsuspecting snack of a girl. There's not a bookish child who hasn't read and loved Mo Willems's books. Don't Let The Pigeon Drive the Bus and the Elephant and Piggie series have both been huge successes. Keep their love going with Goldilocks and the Three Dinosaurs, Willems's laugh out loud reimagining of the classic tale of Goldilocks and the Three Bears.
Creepy Pair of Underwear, by Aaron Reynolds and Peter Brown (illustrator)

Let's face it: if there's one thing little kids LOVE to talk about, it's underwear. So they will absolutely adore this book. Jasper Rabbit is not afraid of the dark. And he's certainly not afraid of underwear. Especially glow-in-the-dark underwear. Right? Except when his underwear glows in the dark, it's creepy. And it just won't go away, no matter how hard he tries to bury it, like in the hamper or even six feet under. This sweet story about overcoming your fears will also get kids (and parents!) giggling.
CHAPTER BOOKS:
Chapter books are usually aimed at children between the ages of six to eight, but they can be read aloud to younger and older children alike, so they're a great option for a mix of ages and stages—and series starters like the ones below mean family fun for weeks to come. Try a chapter (or ten!) before bed every night!
Alvin Ho: Allergic to Girls, School and Other Scary Things, by Lenore Look

If your kid refuses to read anything besides Diary of a Wimpy Kid, we've got good news twice over: it means they're reading, and it means they'll love the Alvin Ho series. Similarly delightful and funny in nature, Lenore Look's series—which includes illustrations from the phenomenal LeUyen Pham—follows Alvin through second grade, where is he afraid of absolutely everything and sits in total silence. It's the complete opposite of when he's home, where he acts as a superhero called Firecracker Man, and is a good brother, and a gentleman-in-training. This series classic yet contemporary series opens up a lot of topics of conversation, especially for kids reluctant to talk about their school day, while being sure to make them giggle.
The Magic Misfits, by Neil Patrick Harris

You might know Neil Patrick Harris as Dr. Horrible or Count Olaf or as the best host of the Tony Awards. But did you know he also writes books? His Magic Misfits series takes place in a magical New England town. Here, crooked carnies want to steal everything—and the only group that can stop them is Carter and his team of illusionists. The first in a series, Magic Misfits doubles up by teaching you real magic throughout the book, as well as hiding secrets and ciphers, meaning there's plenty to discuss together as you read. Can't get enough magic and mayhem? Luckily, the sequel, The Second Story, is on shelves now.
MIDDLE GRADE:
Middle grade novels, aimed at kids between the ages of eight and twelve, are perfect to read together as a family before bed. Much like chapter books, you can read with your children every night, or take turns reading chapters aloud with the avid readers in the house. Middle grade novels like The Truth as Told by Mason Buttle and the young readers adaptation of Hidden Figures are aimed at a slightly younger audience, while I Am Malala and Ghost are aimed at age ten or older—though it all depends on the reader!
The Truth as Told by Mason Buttle, by Leslie Connor

There's a reason The Truth as Told by Mason Buttle was a finalist for the 2018 National Book Award. It's incredible. This poignant, hopeful story follows Mason Buttle, who struggled enough in school with his learning disabilities and large size before his best friend died. With the investigation ongoing, Mason just can't focus, especially since the the police officer won't believe what Mason told him. Kids will hang on to every word as Mason makes a new friend named Calvin…only for him to go missing, with Mason determined to find him.
Hidden Figures, by Margot Lee Shetterly

Before Hidden Figures was a blockbuster movie, it was a bestselling and engrossing book—and now that it has an adaptation for young readers, it's the perfect real-life story to read aloud. Before NASA could launch into space, they needed to figure out how to get there. The solution came in the form of four incredible mathematicians, nicknamed the "human computers," who calculated exactly what they would need to launch rockets and men into space. The stories of Dorothy Vaughan, Mary Jackson, Katherine Johnson and Christine Darden will enchant kid listeners precisely because they're true stories—and because of all the things the four women overcame.
I Am Malala: The Girl Who Stood Up for Education and Was Shot by the Taliban, by Malala Yousafzai

We all know who Malala Yousafzai is. She's a household name and one your kids likely already know from school, if not from parents and friends. Her memoir on growing up in Pakistan under the Taliban regime is the perfect way to get them to learn more, opening up great family discussions while learning about a real person and kid hero. While the original memoir is intended for an adult audience and could be read with your teenagers, the young readers' adaptation is perfect for kids ten and up.
Ghost, by Jason Reynolds

Jason Reynolds is an absolute treasure: an excellent writer, an incredible advocate for independent bookstores, and one of the faces of the push for more inclusive books. His accessible style means his books make incredible read alouds. The first book in his Defenders' Track Team series, the National Book nominated Ghost is the perfect introduction to Reynolds' canon (which also features the stunning Newbery-honored Long Way Down for teen readers). When four kids—from four different backgrounds, with four clashing personalities—are chosen for elite middle school track team, a role that could qualify them for the Junior Olympics. But that's only if they can work together. The first of a series, each novel tells the story of one of the kids running the race. Start with Ghost before reading the stories of Lu, Patina and Sunny…aloud, of course.
YOUNG ADULT:
Young adult novels offer up a bonding experience with your teenage children—and a chance for you to devour some truly wonderful books. Try reading these aloud with your teenagers, using them as platforms for further discussions about what's going on in the world and in their lives.
The Hate U Give, by Angie Thomas

The movie just released. The book has been on the top of the New York Times bestseller list for over a year. If you haven't heard about The Hate U Give, you haven't been paying attention. One of the first "Black Lives Matter" books for teens, The Hate U Give follows Starr Carter, who lives in a black neighborhood but attends a nearly all-white school…and who witnesses her cousin get shot by the police. The only person who knows the truth, she can raise her voice, but at what cost? This powerful YA novel is perfect to read as a group precisely because of the conversations it kickstarts, and if your teen has already read it, even better—it's just as good the second time around.
Dry, by Neal and Jarrod Shusterman

With all the discussion currently surrounding the topic of climate change, Neal and Jarrod Shusterman's Dry could not be more timely. This collaboration between National Book Award winner Neal and his son Jarrod takes place after California finally runs out of water. No, it's not the drought. The drought means there's some water left in the tap. That's all gone, and now Alyssa's suburban neighborhood is a war zone as people battle for drinking water. Dry is terrifying, heart-pounding and absolutely impossible to put down. The Barnes & Noble exclusive edition includes chapter-by-chapter commentary, which will thrill aspiring writers and teens looking to understand why the story goes in the directions it does.
---
Barnes and Noble Reads Blog